Rita1652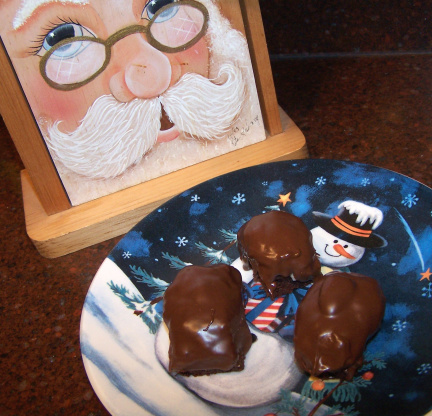 Delightful brownie bites mounded with sweet chewy coconut covered with chocolate glaze. With an optional choice of almond joy topping. This is a take on almond joys and or mounds bars over brownies.

These were yummy, however I was running behind on time and decided rather than cut the brownies in bite sized pieces I would just do a giant layer of brownie, then fill with coconut layer, then another layer of brownie and topped with the chocolate. So the result was one giant mounds bar! This was a good idea until it came time to cut through the hardened chocolate, however it did still work! Good recipe, little on the rich side but definitely a keeper!
Preheat oven to 325 degrees.
Prepare 17.25 x13 1/2 inch cookie sheet pan by placing parchment paper on it.
Mix brownie according to directions. Be sure not to over mix.
Pour onto prepared pan.
Bake 40-45 minutes. Remove brownie with parchment sliding it on a rack to cool. When cool slice into bite size pieces. About 90 pieces.
Mounds filling:.
Melt butter add vanilla and milk and stir.
In a large bowl toss cocount flakes and sugar to blend, pour butter mixture over and stir till combines. Cover with plastic wrap and chill.
Glaze:.
Melt chocolate and wax or shortening together.
Assemble:.
Mound a good amount on each brownie piece using all the coconut mixture. Pack it with your hands to smooth. Place on almond piece on each if using. I made 1/2 with and 1/2 without.
Quickly dip each mound coconut down into melted chocolate. Or spoon the melted chocolate over the coconut mounds. Chill let harden then pack in a sealed container with plastic wrap in between each layer. It was so cold outdoors that I just put them outside to firm up.
Enjoy.