awalde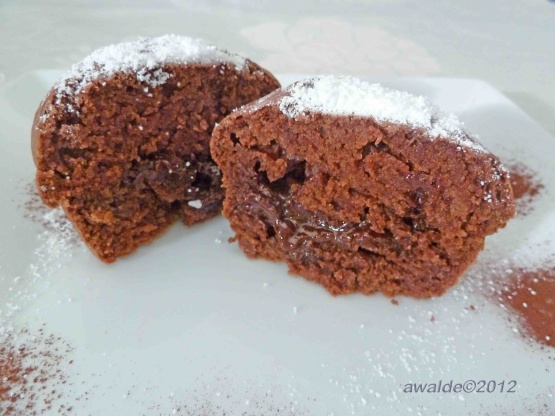 From our local/state paper chocolate special, times are estimated.

Top Review by Tisme
These muffins are so easy to make.......Well I cheated just a little!
I also did not make the chocolate centre, instead I used a Lindt Chocolate Balls in the middle of each muffin, which I still had from Easter.
I did make one mistake and misread the amount of cocoa and used 1/2 cup so this made the muffin mix a little thicker than it was supposed to be, and also made for a very strong cocoa flavour.
No problems I covered the strong cocoa flavour with whipped cream!!!!!!!!!!!
The Lindt Ball's worked a treat in the middle of these muffins and served warm with the cream made for a delicious muffins with a soft, rich chocolate middle.
Thanks Pat, will be making these again, so easy and so delcious, although next time I might follow the recipe!!!! :-)
Make the filling first by heating the cream to almost boiling and pouring over the chocolate
Allow to sit for a minute and then stir until the chocolate has melted and the mixture is smooth.
Set aside to cool and then roll into 12 balls.
Preheat the oven to 200°C.
Sift flour and cocoa into a bowl and stir in the sugar.
Stir in the butter, eggs, vanilla and milk, making sure you do not over-mix.
It should look a bit lumpy and rough.
Half fill the patty pans and then add a ball of chocolate to each patty pan and then top each with the rest of the muffin mix.
You need to work quickly to ensure they rise peoperly.
Bake for 12 minutes and serve warm.