Mock Canned Pineapple Chunk or Crushed (Water Bath)
Rita1652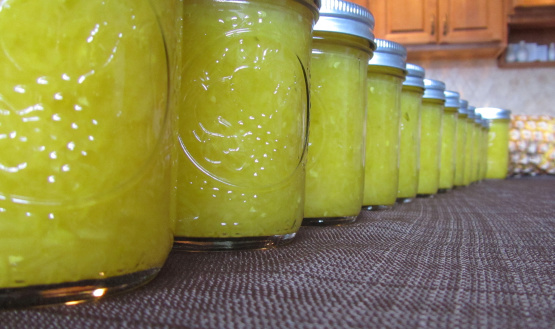 This is great for preserving your overabundance of summer zucchini. Nice over ice cream, in a trifle over pancakes...... Use in any way you would canned pineapple. I found no need for the extract unless you want additional flavor like coconut to make pine colada flavor.
10

cups zucchini (shredded or cubed peeled, seeds removed)

46

ounces canned unsweetened pineapple juice
1 1⁄2 cups bottled lemon juice, necessary for safe canning

3

cups sugar

1

pinch salt
yellow food coloring, for eye appeal

1 -2

teaspoon coconut, extract to taste (for a pina colada effect) (optional)
1⁄2 cup coconut rum (optional) or 1⁄2 cup pineapple rum (optional)
Cube zucchini for chunk or shred for crushed pineapple. The shredded with fill less jars then chunk.
Place the shredded zucchini in a strainer for 15 minutes. Squeeze out excess water.
Or place the cubed zucchini in a strainer and lightly salt, toss and let sit 20 minutes. Then rinse and drain weel twice. Dry with papare towels.
While the zucchini is draining place juices, sugar, salt, and food coloring in a large pot and bring to a boil.
Add shredded zucchini to pot and bring back to a boil for 25 minutes. cubed zucchini for 40.
Then add extract and rum if using cook for 5 more minutes.
Fill hot sterilized jars with hot mixture and cooking liquid, leaving 1/2 inch head space.
Remove air bubbles.
Wipe jar rims.
Adjust lids.
Process in a boiling water bath.
Half-pints or pints for 15 minutes.
You should get 16 jars shredded with this recipe or 10 jar cubed.
With the cubed you`ll have extra syrup left, do save it for making mixed drinks.