Moist Spiral Cut Ham With Pineapple Honey Glaze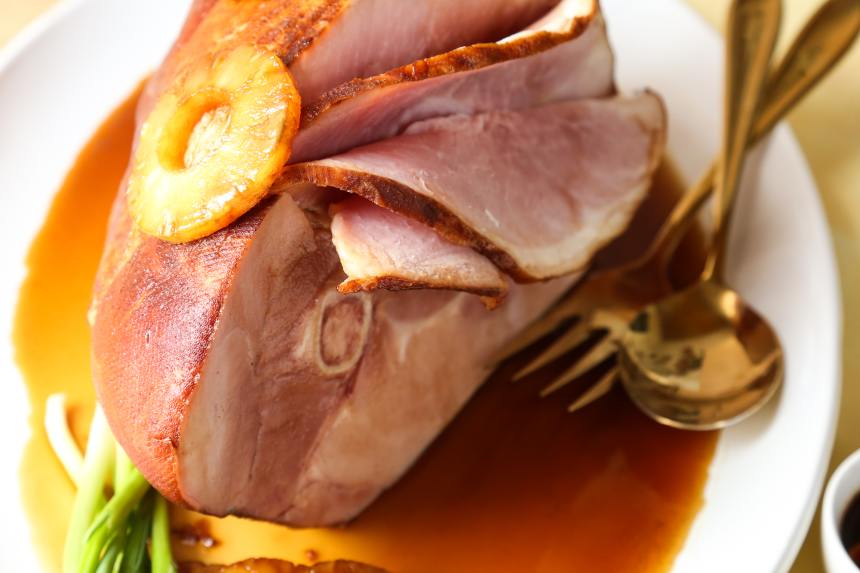 photo by Probably This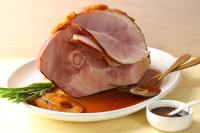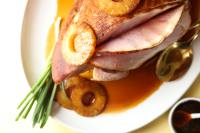 Ready In:

3hrs

Ingredients:

13
directions
1. Place ham, left in plastic covering from company (and netting to make handling easier), into large container. Cover with hot tap water. Let sit for 45 minutes. Empty water and refill with hot tap water for another 45 minutes. This allows the internal temperature of ham to raise before placing in oven.
2. Preheat oven to 250 degrees. Adjust oven rack to lowest position.
3. Remove ham from water and all packaging from company. Be sure to remove plastic disk covering bone. Place ham inside large oven bag making sure that the cut side is at bottom of bag. Gather bag tightly around ham and tie. Place in large roasting pan. Cut 4 small slits in top of bag with knife.
4. Bake ham until internal temperature reaches 100 degrees (approximately 90 minutes or 10 minutes per pound).
5. During last minutes of ham cooking time, combine sugar, brown sugar, cinnamon, cloves, allspice, nutmeg, paprika, and ginger in small saucepan. Once combined add pineapple juice and honey and cook over medium heat stirring constantly. Remove from heat. Consitency should just allow you to pour. If not, add more pineapple juice.
6. Remove ham from oven. Untie oven bag and roll down sides. Any juices inside bag you will want to keep within bag. Increase heat in oven to 350 degrees.
7. Starting at the bottom cut portion of the ham, hang pineapple slices on ham with toothpicks.
8. Slowly poor 1/4 of glaze over ham. Return to oven for 10 minutes. Repeat twice. You will still have glaze left over for those who may like more glaze with their ham.
9. After final oven glazing, remove ham from oven. Remove pineapple slices (if you wish) to a separate bowl for serving. There will be liquid in the bottom of the bag. My family likes this added to the leftover glaze to pour on individual ham slices and served with individual pineapple slices.
10. Place ham on platter and serve. Pour glaze and ham juices into gravy boat for service.
Questions & Replies

Reviews
This was my first time trying this technique with the ham and it was AMAZING! I followed the recipe to the T including the glaze. It was aboslutely super moist from the first slice until the last. My entire family loved the ham and glaze and requested it for Thanksgiving next year as well. Not too mention it was super easy- I felt guilty because it tastes so good without hugh effort. This is my first time posting and this recipe is why I joined Food.com. I'm so excited! You must try this recipe!

 

I made it at Christmas and it was incredible. We ate the leftovers for days, and it was so moist and juicy! Of course my husband wanted this again for Easter, and I panicked when I couldn't find the recipe written down anywhere. I'm so relieved to find this recipe again! This is going to be my go-to holiday ham recipe for years to come.

 

I had found the technique for the ham at Cook's Illustrated, was going to post it, so glad it's already here. This makes the best, moist, flavorful ham. I used a different glaze, but did use this specific oven bag technique. It is excellent. The ham does not have a hint of dryness to it. Highly recommended.

 

I had refused to buy spiral cut hams because every time I have eaten it, the ham seemed really dry, not moist and juicy like a regular ham... but this method has changed my mind. I decided to give spirals one last try, and boy am I glad I did! It was delish! I didn't make the glaze, but I used the method for baking and used my own glaze. It was wonderful and everyone loved it! Thanks for sharing!

 
RECIPE SUBMITTED BY
Although the kind of cooking I was raised on and most enjoy would best be described as down-home, Southern comfort food, that is not my history in the the least. My mother came from Wyoming rather than the deep south, but she is a wonderful cook and an expert at comfort food.? We always had someone extra at our dinner table as a kid, so I learned how to cook for a crowd.? My husband and two kids tease me about cooking for the 5th regiment, but they all seem to enjoy it. Although I love to cook, I also love to perform in and teach Theatre. That means there are many times when my two passions don't allow enough time for one another.? It's rather difficult to be in the classroom all day teaching theatre, have rehearsals after school, and often be at a theatre by 6:30 for a performance call and still create the kind of meals I truly enjoy cooking. Until I can find a way to marry these two passions, I enjoy collecting and creating recipes and trying them out on my family and friends.
View Full Profile