KaraRN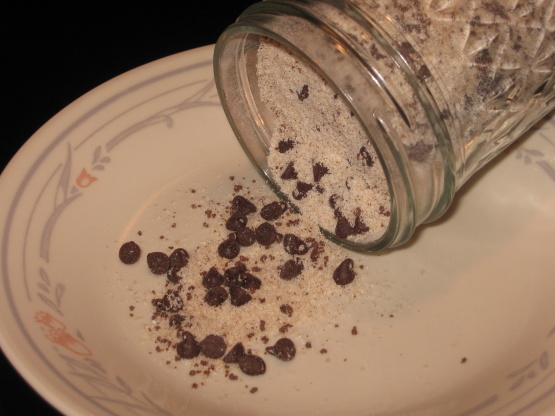 Looking for an easy and impressive last-minute gift? Package one or more batches of this coffee- and chocolate-flavored drink mix in clear cellophane bags and tie with festive ribbons. Include instructions so your java-loving friends can whip up a great mocha sensation.

Great afternoon pick me up! I really enjoyed the combination of flavors in this coffee mix. I used almond milk and it was so good. Instead of sugar, used a bit of sugar-free Torani's French vanilla syrup. After I finish my half gallon. It was great! Thanks so much!..PRMR 2013....Grpa
3⁄4 cup instant coffee creamer
1⁄3 cup packed brown sugar
1⁄2 cup instant coffee crystals
2⁄3 cup miniature semisweet chocolate chips
shaved semisweet chocolate (optional)
In a medium mixing bowl, combine creamer, brown sugar, coffee crystals, and chocolate pieces.
Package prettily for giving or store mixture in a tightly covered container.
Mixing Instructions:.
pour 2/3 cup boiling water in a blender container.
Add 1/4 cup of the mix.
Cover tightly; blend until well combined and frothy, (Or beat with a wire whisk or electric mixer).
Pour into a mug.
If desired, top with shaved chocolate.
Makes 2 cups mix.