Minty Cheese Filled Pasta (Kärntner Kasnudel)
gemini08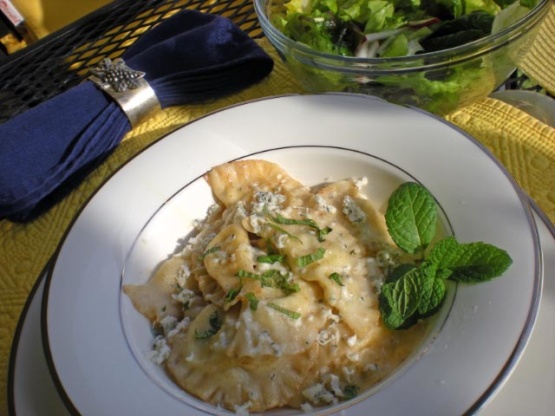 Another traditional dish from Austria, which is rather easy to make, even though a bit time consuming, but the effort is absolutely worth it. You can find this dish mainly in the south of Austria (I like to think it is a bit Italian-influenced) and sometimes it is the only vegetarian food (apart from salad) to find on a menu (countryside pubs and restaurants). Lucky me,that it is one of my favourites. This dish usually comes with fountains of melted, browned butter, you can either induldge or adjust, e.g. limit, the amount to your preferences :).

Absolutely delicious! Pasta, cheese, brown butter - what's not to like! Even though I grew up in Austria, I had never eaten this dish before. Austrian cuisine is very regional and in my neck of the woods we simply didn't have it.
For the cheese part I used cream cheese and added strained yoghurt until the cheese had the consistency of Ricotta but I also added some Gorgonzola for extra flavor. The mint was a lovely addition! I did lightly saute the cooked ravioli in brown butter and added more grated Gorgonzola on top for a wonderful meatless dinner. One note I would like to make - with the fresh pasta dough and the potatoes already being cooked, the ravioli only took about 5 minutes to cook, not 15 minutes as suggested in the write up.
Danke, Eismeer, fuer ein wunderbares Rezept! Made and reviewed for the" More than Sauerkraut and Dumplings" event at the German Forum.
550

g flour

1

egg

150

ml water (lukewarm)

500

g curds (or ricotta)

300

g potatoes (cooked and mashed)

1

tablespoon mint (fresh or dried, adjust to taste)

50 -100

g butter (melted and browned)

1

tablespoon french parsley (minced)
salt and pepper
Knead a soft pasta dough out of the first 4 ingredients, form a ball, wrap in plastic and place in fridge for about 30min.
Cook potatoes for about 25-30 minutes (depending on their size) peel and mash rather thoroughly.
Mix together curd, potatoes and mint (rub dried one between your fingers). Salt and pepper to taste.
Form ~1inch diameter balls out of the filling.
Use a rolling pin or a pasta machine to flatten dough (2mm thin).
Cut out (using a glass or pasta forms) medium sized pasta circles (about 1,5 - 2 inch in diameter),
Place your filling in the center of your pasta circles/rounds and fold/press them together into semicircles.
Seal edges using your hands or a fork. (experienced Austrian chefs "kreindel" their Kasnudeln, which means, they use a special "finger-technique" to make the pasta's edges look like gimp/border. It might look pretty, but it's very difficult. To do and for me to explain :)).
Put noodels into salted, boiling water and let simmer on low heat for about 15 minutes.
Either serve Kasnudel with melted, browned butter, sprinkled with minced french parsley, or fry them in a pan (butter) until lightly brown and crispy.