Mini Thanksgiving Dinner Cupcakes
CandyTX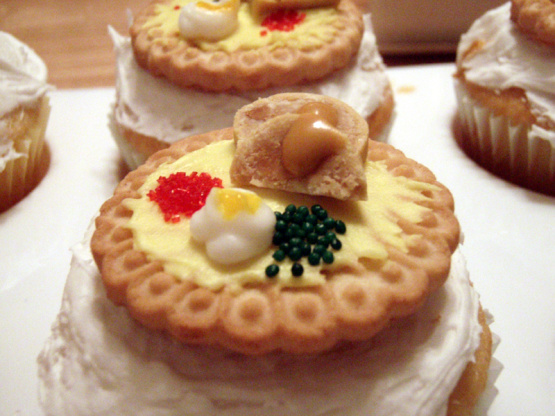 I saw this on someone's blog and I had to get it down so I could try to make it next year...

It may have been my blog! Here was one of the 2006 posts I did - http://www.housewifebarbie.com/2006/11/mini-thanksgiving-dinner-cupcakes.html I've made these for years - it's a family tradition. :)
12

cupcakes, prepared

226.79

g bagbrach's maple nut decorative candies

226.79

g can white frosting

141.74

g packageyellow gel food coloring

59.14

ml non-pareils (red or green)

118.29

ml chocolate chips or 118.29 ml butterscotch chips

340.19

g package cookies (any kind)

118.29

ml yellow frosting (for the 'plate')
Bake and cool your favorite cupcake recipe.
Place frosting on the cupcake and top each with a cookie while the frosting is soft to 'adhere' the cookie-plate to the cupcake.
Slice the maple nut candies thin and layer them as 'turkey'.
Dab some white frosting next to it for 'mashed potatoes' followed with a little dab of yellow gel food color as 'butter'.
Melt your butterscotch or chocolate chips and thin with a little vegetable oil.
Drizzle over the 'turkey' as gravy.
Finish it off with the 'cranberries' (red colored sugar or non-perils) and little green 'peas' or 'beans'.