lazyme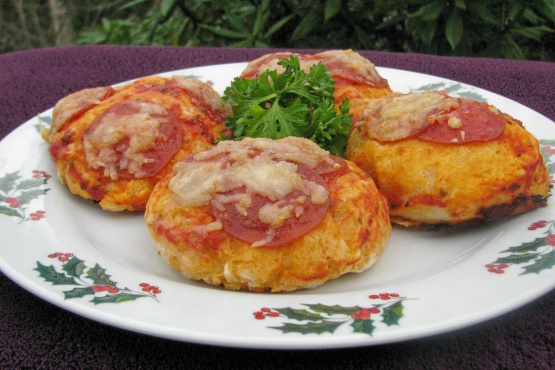 Simple and quick snack pizzas that are perfect for afternoon snacks or movie parties.

Made these for Sunday lunch. These were good and real easy to make. I followed the recipe except I used real bacon bits for the topping as that is all I had. I also used shredded mozz cheese because I didn't have sliced. Mine were done in 13 minutes. We all enjoyed them and the family loved the bacon on them. Next time I would make with other toppings like peppers and mushrooms too.
Preheat oven to 375.
Place rolls on ungreased baking sheet try to flatten rolls so they resemble flat circles.
Take a spoonful of sauce and spread ontop of each rolls.
Then cut up cheese into small bits and garnish.
Add meat ontop of cheese and then place remaining cheese ontop of meat.
Cook for about 15 min of until rolls are golden.