Minature Napoleons With Eggplant Creme (Vegan Yum Yum)
Rita1652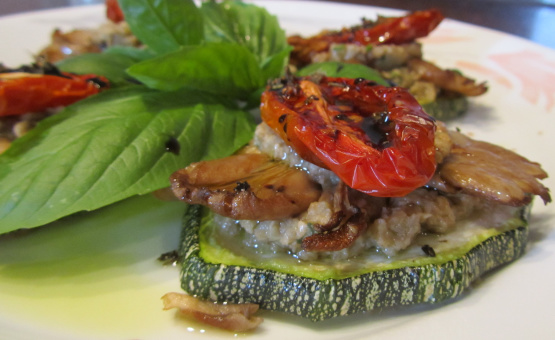 This is the cover recipe for Lauren Ulm's cookbook: Vegan Yum Yum. I think it is the best thing I've ever made! These make cute little starters. They are not finger food and they won't stand up well to being served that way in my opinion. So I suggest them as a starter where the food is plated and brought to the table. To see a beautiful photo, visit Lauren's blog at: http://veganyumyum.com/2008/07/miniature-napoleons-with-eggplant-creme/ Make extra tomatoes and zuchinni slices to help in matching up sizes after roasting. This recipe makes about 1.5 cups extra eggplant creme. It's great as a sandwich spread, ravioli filling, dip, etc.

Delish! I made with homegrown organic eggplant, tomatoes and zucchini. I didn`t use tamari or soy. I used fresh garden grown herbs. and garlic minced and placed on the veggies before baking. For the creme I didn`t microwave just pan fried till tender added the cashews and garlic to the pan to toast for 1 minute. then blended. I had a very large zucchini so I plated that first on the creme, then creme, topped with oyster mushrooms more creme them the tomato. I would slice the tomato next time before placing on for easy eating. The layer all comes down to size. Thanks. Enjoyed for Veg tag
1

zucchini

12

cremini mushroom caps (other mushrooms would work fine)

Eggplant Creme

2

small eggplants

2

tablespoons olive oil
2⁄3 cup raw cashews

1

teaspoon dried Italian herb seasoning (basil, marjoram, oregano, rosemary)

Garnish

12

basil leaves
balsamic vinegar
Preheat oven to 300°F.
Slice the tomatoes and zuchini into at least 12 slices (between 1/4 and 1/2 inch think). Place on a parchament-lined cookie sheet. Spay with oil to coat and sprinkle with dried herbs. Bake for 1 hour and 15 minutes.
Add the mushoom caps to the roasted tomato/zucchini sheet. Spray with oil and put about a 1/2 teaspoon of tamari (or soy sauce) in each one. Bake for about 30 more minutes.
While the vegetables are baking, peel and dice the eggplants (I had about 750 grams). Put a couple layers of paper towels in the bottom of a big bowl and microwave the eggplant in two batches for eight minutes each.
Then saute the eggplants in olive oil for about 10 minutes until cooked an a littlebrown.
Add eggplants, cashews, and garlic to a food processor and process until very smooth.
To assemble, put a little dot of eggplant creme on the plate to act as an anchor. Place a tomato on top of the anchor and put more eggplant creme on top. Then add zucchini and more creme. Then add mushroom cap and a a dot of more creme.
Garnish with basil and a bit tomato. Drizzle a little olive oil and some dots of vinegar on the plate to really be fancy.
(I found that if the mushooms are big, they make a better base than topper.).