Microwave Winter Pear Amaretto Jam
Annacia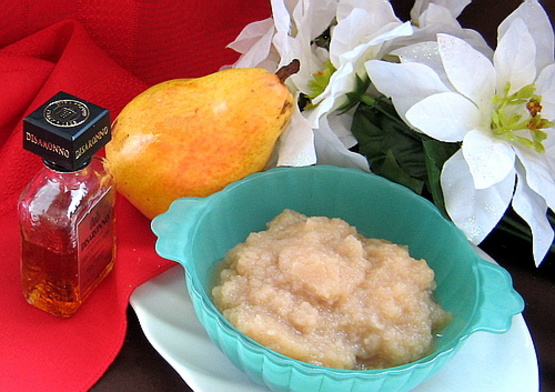 I use Bosc or Anjou pears for this jam. This jam is quick and easy and only makes 3 cups. The recipe is from Small Batch Preserving by Topp and Howard.

I'm not adding any stars because I couldn't get the pectin and since I had the apple and pears I made a fruit sauce that is delicious. I used 2 lg Bartlett pears and a Granny Smith apple. They were whizzed in the food processor and then simmered with 2-3 Tbsp of water. Once cooked down, thickened and off the stove I added 1/4 cup of Splenda and the Amaretto. It's delicious and will be marvelous on toast, pancakes or anything you would use a fruit sauce for. Thanks mary.
Combine pears, apple, apple juice and pectin in a 3 quart microwavable container.
Microwave, uncovered, on High for 6 minutes or until mixture comes to a boil, stirring twice.
Add sugar.
Microwave, uncovered, on High for 4 minutes or until mixture return to a full boil and boil hard for 1 minute.
Stir in liqueur.
Ladle into sterilized jars and use inversion method or process in water bath for 10 minutes.