AmyMCGS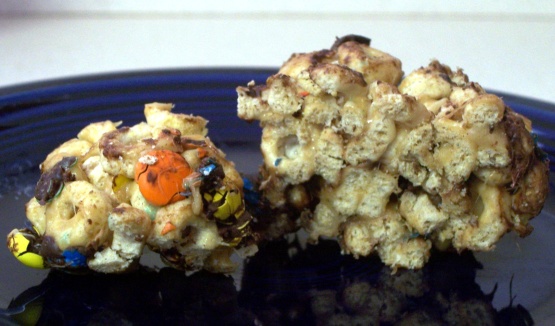 The kids will line up for these. They like to help make them too! Whenever I take these somewhere, I am always asked for the recipe.

This is a great recipe! I was nosing around the kitchen for something to make for my son's lunch. Amazingly enought I had all the ingrediants, I threw it together in less than 5 minutes. I couldn't have asked for a yummier recipe. I will definately make this over and over again. Thank you so much for sharing such a quick and easy recipe.
Put butter and marshmallows in lg microwave bowl.
Microwave, uncovered, on high for 2-3 minutes, until puffed.
Stir in the peanut butter; blend well.
Add cereal and M&M's; mix well.
Spoon into greased 13x9 baking dish; press down gently.
Cool before cutting.