Michele's Crock Pot Chicken Tortilla Soup
Kunkel20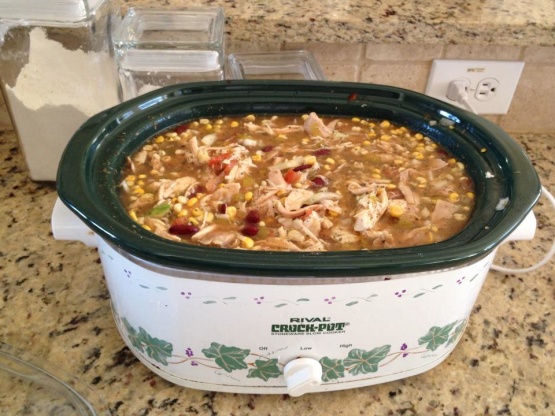 I found this recipe on the label of the Green Enchilada sauce can...it is so tasty! I will make it again, but with a bit less heat. If Hatch brand isn't sold in your area, I am sure you can substitute others, I am just sad for you having to use inferior quality products! ;0)

This was a very good tortilla soup, but too spicy for me. I didn't use Hatch brand products, and used "salsa verde" instead of enchilada sauce. It was supposed to be mild, but I guess it was spicier than I thought. Otherwise very nice, and very easy to make. I made it in a regular soup pot on the stove because I couldn't wait for a slow cooker. I didn't even cook the chicken first, I just cubed it raw and threw it in. The soup was yummy, in small amounts. I can't wait to make it again so I can fix the "heat".
1 1⁄2 lbs shredded cooked chicken (I had leftover rotisserie chicken and then tossed in 2 breasts from the freezer to get in the ball p)

1

(15 ounce) can diced tomatoes

1

(14 ounce) canhatch green enchilada sauce

2

(4 ounce) canshatch diced green chilies (it was a little too spicy for us, I will cut it back to one next time for us)

1

(15 ounce) can pinto beans, rinsed and drained

1

medium onion, chopped

2

tablespoons minced garlic

2

cups water

1

(15 ounce) can chicken broth

2

teaspoons cumin

2

teaspoons chili powder

2

teaspoons salt

2

teaspoons pepper

15

ounces corn, drained

2

tablespoons chopped cilantro
avocado, cubed
shredded cheese, of your choice
Combine all ingredients to the corn in the large crock pot.
Cook for 6 to 8 hours on low.
If using whole chicken breast remove before serving and shred with forks, then return to pot and stir.
The others items on list are for garnish after this bad boy is cooked.
Serve in your favorite soup bowls with chips and garnish of choice -- oh I added some more raw onions and would use green onions next time for some other green color.