Mexican Pickled Red Onions
Jostlori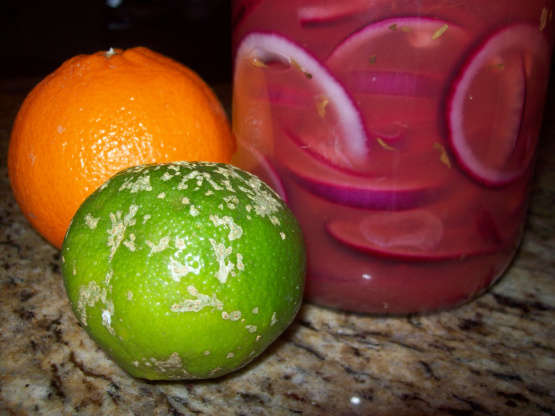 -- From "Mexico One Plate at a Time" by Rick Bayless. Onions may be made several days ahead of time and refrigerated until ready to use.

These are awesome! Have had these pickled onions many, many times on trips to the Yucatan. Of all the recipes I've tried so far, these are by far the best. I have Rick Bayless' "Mexican Kitchen" cookbook which has a different recipe, but this one beats it. Using orange and lime juice is what makes this different than the ones that use simply lime juice or simply cider vinegar. Here in Costa Rica, it's difficult to find limes, so I used a sour green orange called a Mandarina. In spite of being very sour, it imparts a mandarin orange sort of flavor that was really really good. If you like pickled onions, you have to try these! I think I ate half a cup before they even cooled off! Oh, have to fess up that I added a bit of oregano and some whole peppercorns - which show up in the picture.
Combine lime and orange juices in a small bowl and set aside.
Place the onions in a non-aluminum bowl. Pour boiling water over them and wait 10 seconds, then pour the onions into a strainer.
Return the drained onions to the bowl, pour on the citrus juices and stir in salt. Cover and set aside until serving time. Just before serving, drain onions and set out in serving bowl.