Mexican Chopped Salad With Beets & Walnuts
jenne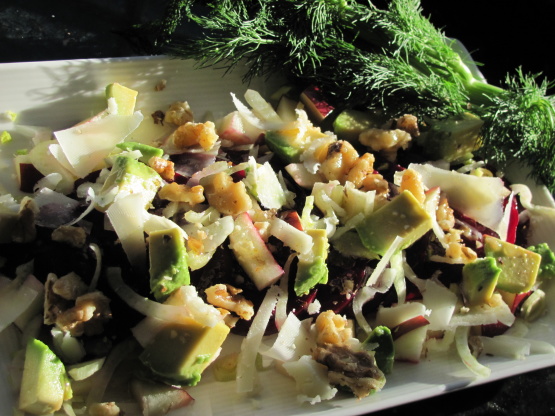 Wonderful recipe adapted from Food & Wine, May 2008 edition. Original recipe called for making a dressing with 2 cups of walnut halves and a ton of oil and it was WAY too heavy and had WAY too many calories. I lighted it up and now we think it's perfect!!! This is a great make ahead salad and is perfect for the Christmas holiday (being red and green)!
Whisk together the oil and lime juice and season with salt and pepper.
Layer beets on the bottom of the plate, then top with apple, avocado, fennel, Manchego and walnuts.
Spoon dressing over the top.
Garnish with a lime wedge and some chips if you like.