Pam-I-Am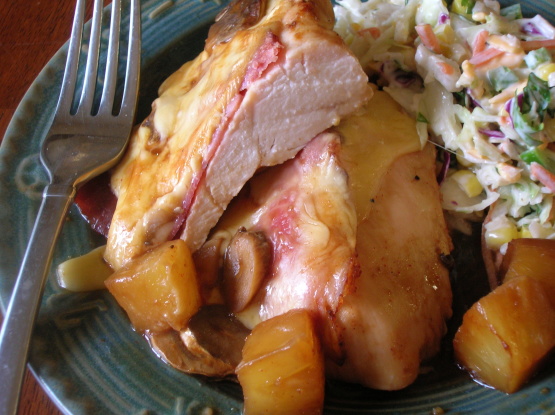 Hearty and filling! Not for the diet conscious but great for the flavor conscious!

GREAT TASTE! Easy for me, a beginner!!! Loved everything and I will definitely make it again :)
In a large skillet pour in the jar of pineapples with juices and add chicken breast.
Cook over medium high heat until the breast are no longer pink in the middle. Remove meat from skillet and discard juices.
Arrange breast in a large casserole. Pour mesquite marinade over all the breasts.
Evenly divide first mushrooms and then ham onto the top each breast.
Top each breast with a thick slice of Monterey Jack cheese.
Bake in oven at 350 degrees about 10 minute or until cheese is melted. (You can also do this step in the microwave. It takes about 2 minutes on high!).