Debbwl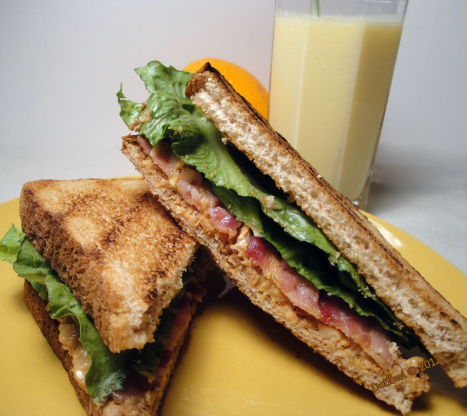 Well tons of people love BLT sandwiches and then there are the rest of us who do not like the taste of raw tomatoes (that would be ME!). As a kid we always had to eat what was prepared or we could tweak it a bit to our liking as long as my mom did not have to do extra work. So this was my take on the BLT as a kid and I still make it now when hubby wants BLTs.

Top Review by Debbwl
Love it! I grew up eating PB on toast with bacon for breakfast, so thought why not try it with lettuce?
I made this for breakfast this morning and DH at first thought it weird till he tasted it and admit he was surprised by both the flavor and declared it a winning recipe that he would like to have again.
I made using romaine lettuce which add even another layer of crunch.
2

slices bread, toasted if you'd like

2

slices cooked bacon, well drained

2

lettuce leaves, washed and patted dry

2 -3

tablespoons creamy peanut butter (to your liking on measurements)
Toast your bread (I think this is very important but I've known others who like it untoasted).
Cook the bacon you need for this sandwich and any BLTs being served but for this sammy you'll need two crispy slices.
Spread the peanut butter on one toasted bread slice, top with the slices of bacon (broken to fit the length) and lettuce). Place other bread slice on top.
Slice diagonally if you want a fancy plate or directly across for those quick lunches (this is really just a joke here!).
Take a bite and then say YUMMMMMM.