Brenda.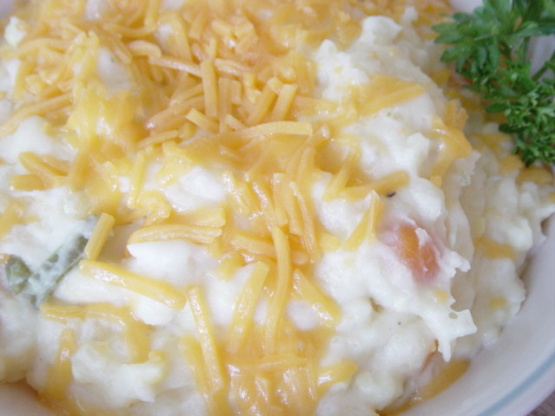 Aren't you getting tired of my magazine recipes? Maybe I either need to (1) stop subscribing to so many or (2) Read them & toss them. But those pictures look soooo good that I'm sure I'll make it someday. I can't swear to the publication but the date is Oct. 2004 & the page looks like those BHG prize tested cut-outs.

Love it, love it! ALWAYS like to see a recipe that includes other veggies in the mashed potatoes, & this one is no exception! I did cut way back on the jalapeno peppers [put in just enough so that I knew they were there!], but other than that, everything was there [including LARGE cloves of garlic]! And, as per usual, I didn't peel the potatoes ~ what can I say, I like the peels! It all turned out great, & I'll be making this one over & over again! Many thanks!
Cut corn kernels from cobs if using fresh.
In a large saucepan, cook corn, potatoes, carrots, jalapeño peppers and garlic in enough boiling water to just cover for 15-20 minutes until all vegetables are tender. Drain off water.
Add butter to vegetables & coarsely mash with a potato masher. Stir in sour cream & 3/4 cup cheese.
Season to taste with salt & pepper.
Top with remaining cheese.
Microwave 30 seconds to 1 minute or until cheese topping melts.
Serve immediately.