Mashed Cauliflower W/ Havarti Cheese.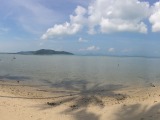 Mashed cauliflower, spiked with dill and Havarti cheese.
Directions
Bring 1 inch of water to a boil in a Dutch oven fitted with a steamer basket. Add cauliflower and garlic, cover and steam until very tender, 10 to 14 minutes.
Transfer the cauliflower and garlic to a food processor. Add cheese, milk, butter, dill, salt and pepper; puree until smooth. Stir in chives (or scallion greens).
Reviews
Most Helpful
This was very good. Creamy and smooth and a nice subtle dill taste.