Marzipan (Cup)cake(S) With Lemonglaze
berry271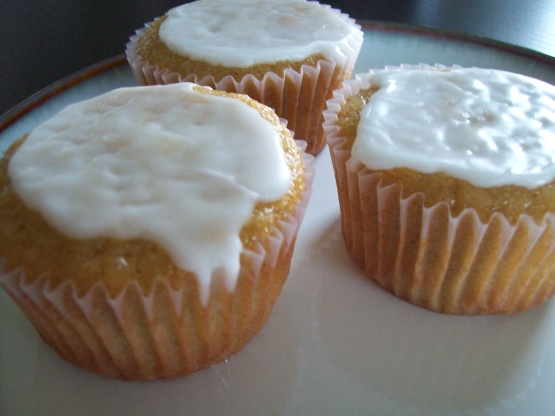 You can either bake this almondy and rich sweet as cupcakes or an entire cake.

Nice and moist. Not a very sweet cupcake. They also didn't taste super almondy to me. Next time I might sub in almond extract for the vanilla. I wasn't crazy about the ground almonds and the texture they added, but that's just me. Overall a nice treat. I did really like the lemonglaze and thought it turned out better than other glazes I've made. They are very pretty. I can't find my camera, or I would post a pic. I think they would be nice at a shower or at a fancy luncheon or tea. Made for PAC Spring 2013. Update: Found my camera and was able to snap a pic before the cupcakes disappeared. Yeah! I must also add that this really is a VERY moist cupcake.
Preheat oven at 180°C.
Mix dark brown sugar and butter (or oil-butter mixture) until creamy.
Add eggs and mix until very fluffy.
Cube Marzipan and soften in microwave (about 20-30 sec. at 700 Watt). You don't need to do this, but the handling is way easier.
Incorporate marzipan, cinnamon, pinch of salt and vanilla extract into egg-butter-sugar mixture.
Add ground almonds.
Mix baking powder with flour and add to dough. Mix thoroughly.
Butter a cake pan or cupcake tin and transfer dough to it.
Bake at 180°C for about 45 minutes (cake) or 20 minutes (cupcakes).
Let cupcakes cool for 10 minutes.
Mix lemon juice and icing sugar until a thick paste forms. Glaze cooled cupcakes as you like.