Marmite and Cheese Whirls
ImPat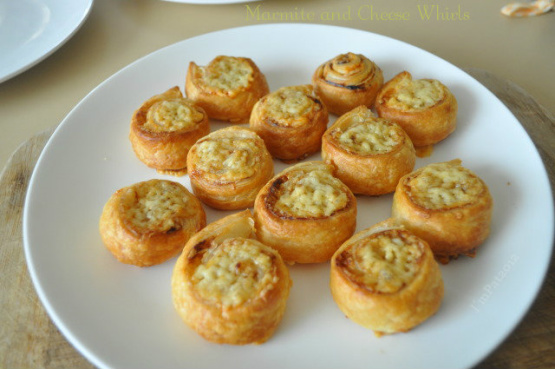 This is a great way of using up leftover or offcuts of puff pastry, and it's so simple. You can substitute peanut butter for the marmite if you prefer.

Thank you for sharing this great recipe, Noo! I was the happy recipient of some marmite in one of my previous Zaar swaps & so, in that respect, this recipe was made to order for me! I did use a sharp cheddar cheese & the combo of that with the marmite was wonderful! [Tagged, made & reviewed in Please Review My Recipe]
Preheat oven to 220°C/425/Gas 7. Line baking sheet with non stick paper.
Roll out the pastry to about 14x10 inches.
Spread the Marmite on the pastry, leaving a 1cm border. Brush the edges of the pastry with beaten egg and sprinkle cheese over Marmite.
Roll up the pastry like a Swiss roll, starting from the long edge. Roll it quite tightly. Brush the outside of the pastry with beaten egg.
Cut roll into thick slices and place on baking sheet.
Cook for 12-15 minutes until pastry is risen and golden.
Serve warm or cold.