Marinated Romanesco and Cauliflower Salad
WiGal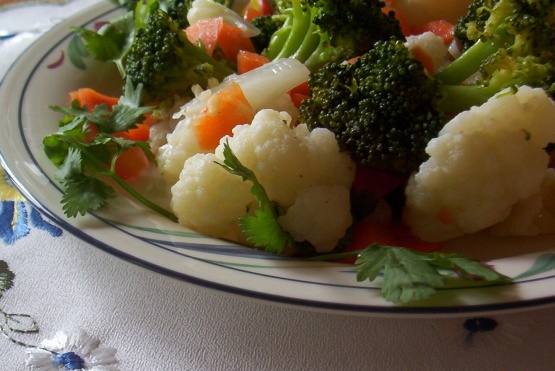 A broccoli salad recipe I played with. Printed in First magazine, June 1998. You could also substitute broccoflower for the romanesco. References online describe the romanesco as looking like a cross between a wedding cake and a star fish! Similar to cauliflower and cooked in much the same way, but it has a nuttier flavor. Do give it a try! It's a shame to have to chop the romanesco up for this recipe! Another way to serve it is to steam the romanesco whole with just the lower stalk cut off and florets left intact. Talk about a presentation! Add a drizzle of lemon juice or butter; sprinkle of salt and pepper. Oh yes!

Top Review by LMGale
Wow! I made this for a book club potluck, everyone loved it. The tangy Asian dressing is awesome. I am part of a sustainable agriculture co-op (really recommend) so I was able to substitute sweet baby broccoli for the cauliflower and add an indigo carrot- yes, they are purple- and the colors were fantastic. Thank you!
Prepare the dressing in a non-reactive bowl by whisking the ingredients together. Taste and adjust seasoning if necessary. Set aside.
Lightly blanch the romanesco and cauliflower in a large pot of boiling water, only until the romanesco is brightly colored. Immediately plunge into cold water to stop the cooking process. Drain well.
Transfer the blanched vegetables, carrots (and chilies if using) to a salad bowl and pour the salad dressing over them. Cover.
Best if salad is prepared several hours in advance to allow the vegetables to marinate.
*Important*: stir in the cilantro leaves just before serving.