Marinated Grilled Tuna Steak
KateL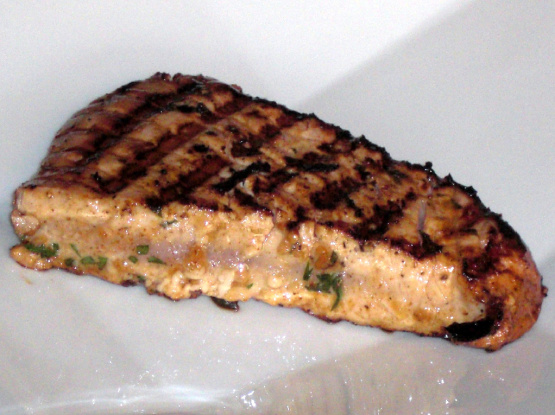 The secret to a perfect tuna steak is to cook it as you would a rare or medium-rare steak, overcooking will produce a tough dry fish, the center needs to be pink -- plan ahead the steaks need to marinade for 8-24 hours, prep time includes refrigeration time --- I have made this in the past many times it is *very* good!

Made this tonight and it was delicious!! All of Kittencal's recipes are right on the money!
In a bowl combine all marinade ingredients until well blended.
Place the tuna steaks into a shallow glass dish (I use an 11 x 7-inch baking pan for this).
Pour the marinade over the tuna steaks and turn to coat.
Cover with plastic wrap.
Refrigerate 8-24 hours (turning a couple of times during chilling).
Preheat the grill to HIGH heat.
Oil the grill grate.
Remove the steaks from marinade (discard any marinade) and place on a plate.
Season lightly with freshly ground black pepper on both sides.
Grill the steaks for 5 minutes per side or until rare or medium-rare (DO NOT overcook the tuna or it will be dry!).
Delicious!