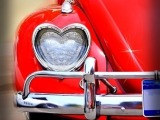 Directions
Fill a 16 ounce glass with ice.
Pour in amaretto, light rum and dark rum.
Pour in orange juice, pineapple juice, and lemon juice.
Stir, then top with a dash of grenadine and garnish with an orange slice and a cherry.
Most Helpful
Give me a wet bar and some of that anti-bacterial hand sanitizer and you've got my support. Laissez les bons temps rouler and Happy Mardi Gras!!!

The first sip of this drink instantly transported me across the Pacific and back to my home-town...New Orleans. I was sitting at Pat-O-Briens in the French Quarter...sipping Hurricanes on a hot summer afternoon. (: Thanks, Queen!!!