King Cake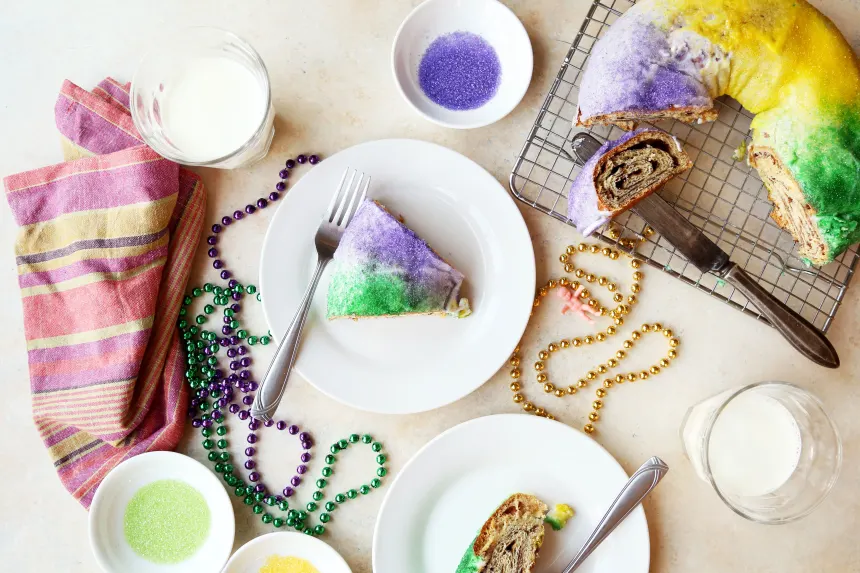 photo by Jonathan Melendez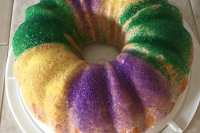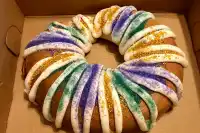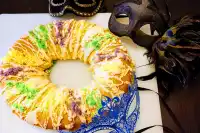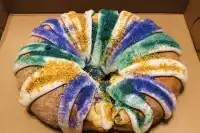 Ready In:

2hrs

Ingredients:

27

Serves:

28
directions
Cook first 4 ingredients in a saucepan over low heat, stirring often, until butter melts; Cool mixture to 100 degrees to 110 degrees.
Dissolve yeast and 1 tablespoon sugar in 1/2 cup warm water in a large bowl; let stand 5 minutes; Add butter mixture, eggs, and 2 cups flour; beat at medium speed with an electric mixer 2 minutes or until smooth; Gradually stir in enough remaining flour to make a soft dough.
Turn dough onto a lightly floured surface; knead until smooth and elastic, about 10 minutes; Place in a well-greased bowl, turning to grease top; Cover and let rise in a warm place (85 degrees), free from drafts, 1 hour or until doubled in bulk.
Using an electric mixer, mix cream cheese until smooth; Add egg and blend well; Add sugar, salt and vanilla and mix until smooth and creamy; Set aside.
Punch dough down; divide in half; Turn 1 portion out onto a lightly floured surface; roll to a 28- x 10-inch rectangle; Spread half each of cream cheese mixture on dough; Roll dough, jellyroll fashion, starting at long side; Place dough roll, seam side down, on a lightly greased baking sheet; Bring ends together to form an oval ring, moistening and punching edges together to seal; Repeat with remaining dough and cream cheese mixture.
Cover and let rise in a warm place, free from drafts, 20 minutes or until doubled in bulk.
Bake at 375 degrees for 15 minutes or until golden.
Decorate with bands of Colored Frostings, and sprinkle with Colored Sugars.
COLORED FROSTINGS: Stir together powdered sugar and melted butter; Add milk to reach desired consistency for drizzling; stir in vanilla; Divide frosting into 3 batches, tinting 1 green, 1 yellow, and combining red and blue food coloring for purple frosting.
COLORED SUGARS: Place 1/2 cup sugar and drop of green food coloring in a zip-top plastic bag; seal; Shake and squeeze vigorously to evenly mix color with sugar; Repeat procedure with 1/2 cup sugar and yellow food coloring; For purple, combine 1 drop red and 1 drop blue food coloring before adding to remaining 1/2 cup sugar.
Questions & Replies

Reviews
I'm from New Orleans and have had pretty much every bakery's king cake. This recipe could easily compete with the top ones! My husband said this one was the best he's ever had, and I'd have to agree. A couple of changes I made - added a few drops of almond extract to the icing and used about half the amount the recipe called for. I prefer a lightly drizzled icing (just enough so the sugar sticks). Also, right before adding the filling, I lightly sprinkled cinnamon and sugar on the rolled out dough. I will definitely make this again!

 

I hadn't baked anything for work in awhile - everyone on diets, but apparently it was noticed and I was asked to maybe bring a King Cake for Fat Tuesday this year. Based on the ingredients and reviews I chose this recipe and it was the right one! I used half cake flour and half all-purpose. My mishap was I decided to use my bread-maker for the dough which rose so beautifully it overflowed! I saw some had trouble with the filling being soft, so I made that first and let it chill in the fridge. About a half hour before I was ready for it I brought it back out to soften up a little. I rolled the dough out on floured plastic wrap and then spread the now slightly softened cream cheese filling on the soft dough. Someone suggest adding cinnamon and sugar too so I made a cinnamon filling to split between the two cakes. sprinkling a row of it across the cream cheese filling. Then with the help of the plastic wrap, rolled it up and transferred the first one to a cookie sheet, placed a small oven-proof sauce pan in the middle to hold the shape and circled it with the dough. The second one I placed in a bundt pan (my apologies to the purists!) But it went around perfectly and make a great presentation. I snuck a sliver from both to be certain they were baked through and they both came out fantastic! Since I'm off on Tuesday, they are going to work with me on Monday - but by Tuesday I'm sure we'll all be feeling fat - and happy! Just thought I'd add that cooking one free-form and one in a pan brought about very different textures and my fire dept coworkers were split on which style they preferred. The free-form was more "bready" and denser, like my grandmother's kuchens and the one in the pan rose much higher and was softer and a much lighter texture. And having the cream cheese AND cinnamon/sugar together was a hit - cheese danish and cinnamon roll combined!

 

Yummy recipe! I did make a few changes. I made the dough in my bread machine on the dough setting. I added ingredients in this order: melted butter, sour cream, water, sugar, salt, flour, eggs, and dry yeast on top. I also added lemon extract and cinnamon. To the flour, I added 1 Tablespoon of cornstarch to each cup of flour in order to make "cake" flour. The texture is extremely soft and flakey-like a Entemman's Cheese Danish!! I forgot the egg in the cream cheese filling. But it still turned out really good. I added more lemon extract to the frosting in addition to the vanilla.

 

I made 1/2 recipe (1 cake) of this today to bring to a friend's house for the Epiphany tomorrow. <br/>I thought that everything went quite smoothly as I made it, and I got to the part where the cake rested in it's oval form for 20 minutes, waiting for the oven to preheat. I was making dinner for my 3 kids under 5 years old at the same time that I was making the filling and rolling out the dough, which was indeed a dream to work with. When my husband got home, he tried the filling remnants that were left in the mixing bowl. Hmm. He said. What? I said. It's not very sweet was his reply.<br/>In my multi-tasking I had forgotten to add the sugar to the filling.<br/>What to do? I decided, after much cursing of myself, to unroll the cake, scrape off as much filling as I could as I went, sprinkle on the sugar and swirl it in, and roll the cake back up. It was a bit messy but the finished product didn't look too much worse for the wear.<br/>I'm not sure if it was because of the re-rolling or the extra time sitting, but it needed 25 minutes at 375 to turn a nice golden color and seem cooked through. <br/>Since it was a bit of a debacle, we decided that before taking it to someone's house, we should try it and make sure that it was cooked and that it tasted right. So I sliced one thin slice from each side of the oval and slid the sides back together (this was pre-icing the cake). I'll hide the seems later with icing and sugar...<br/>Lo and behold, it was cooked through! AND it's absolutely delicious! <br/>I'll be making this for a brunch this coming weekend. Hopefully this time I'll remember the sugar in the filling ;o)<br/>UPDATE - made this for Mardi Gras 2012 and didn't forget the sugar. After 15 minutes I thought it might need a bit more time, so I cooked it an additional 3 minutes. It was quite golden so I took it out. Unfortunately the middle was pretty doughy when we cut into it. Seems like it needs the 25 minutes of cook time when I make it. (My oven is true to temp).<br/>UPDATE #2 - made 1/2 of this again for Epiphany 2013. I used my bread machine this time, on the dough cycle, and then rolled out the dough and filled it. This time I cooked it for 23 minutes. Delicious as usual. The bread machine definitely cut down on the prep for this, which is good for me since we now have 5 kids, including a 2 month old!