Rita1652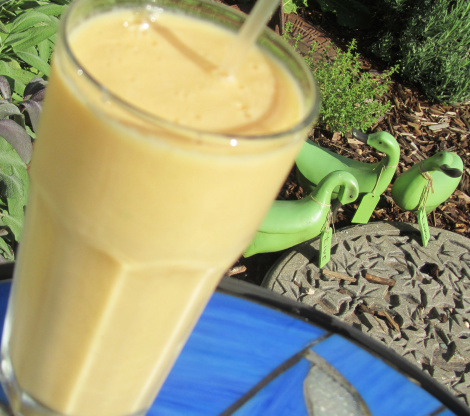 A lassi is an Indian smoothie made with yogurt, sometimes offered as an aperitif or as a "side" to calm down a fiery meal. Thanks to a ripe mango and orange-flower water, this version is sweet and fragrant. It's perfect for an afternoon refresher or an after-dinner treat. From EatingWell.com (Eating Well Summer 2003)

Wonderful refreshing smoothie! Like Rita, I used frozen peaches, and I did use the optional orange flower water. Wouldn't omit it, it makes the lassi so special. Thanks for sharing :)
Made for ZWT 8 / India for the Lively Lemon Lovelies
1

cup chopped peeled mango
1⁄3 cup peach sorbet
1⁄2 cup nonfat vanilla yogurt
1⁄4 cup orange juice
1⁄8 teaspoon orange flower water (optional, see Ingredient Note)
Place ingredients in the order listed in a blender.
Pulse twice to chop mango, stir well, then blend until smooth.
Serve immediately.
Ingredient Note: Orange-flower water is a perfumy distillation of bitter-orange blossoms. Look for it at gourmet markets.
Nutrition Bonus: Vitamin C (70% daily value), Vitamin A (15% dv)
Carbohydrate Servings: 2 1/2.
Exchanges: 2 1/2 fruit.