Make Ahead Grilled Brats and Beer Wisconsin Style
PanNan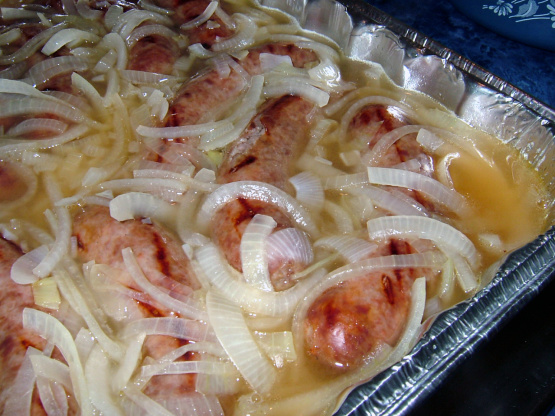 These are great to make ahead for cookouts or tailgating. Especially if you need the grill for other foods. They can be reheated in a foil pan on the grill, in the oven or in a crock pot. They can be made a day ahead, the morning of, or served right away. You need fresh bratwurst for this, not the smoked or white colored sausage. We've already made 100 of these ahead for large groups.

This is a GREAT way to prepar brats! I made these as part of our 4th of July barbeque buffet and everyone loved them. The beer gives the brats a wonderful flavor and onion-loving DH was in onion heaven! :) I especially like the fact that these can be made ahead of time- more time to mingle with friends. Thanks for posting this, Connie- it's a winner!
8 -10

fresh bratwursts, in natural casings (approx 4 oz. each)

3

large onions

6

(12 ounce) cans beer (any style)
Place brats in large saucepan and cover with 4 cans of beer.
Bring to boil.
Lower temperature and simmer for 10 minutes.
Meanwhile saute sliced onions in olive oil or margarine.
Cover and cook slow, turning onions often till tender.
Do not caramelize.
Drain bratwurst and place on hot grill.
Gas or charcoal.
Brown evenly on all sides.
Watch closely.
The sausage fat can cause flare-ups.
Remove from grill, when browned.
Place in foil pan, or oven ready pan, or crock pot, along with onions and remaining beer. (Add more beer if necessary to cover).
Refrigerate, until one hour before eating.
Reheat slowly for an hour.
If you plan to serve immediately after grilling, heat the remaining beer and onions before adding grilled bratwurst.