Magical Sparkling Snowflakes: Christmas Butter Biscuits-Cookies
French Tart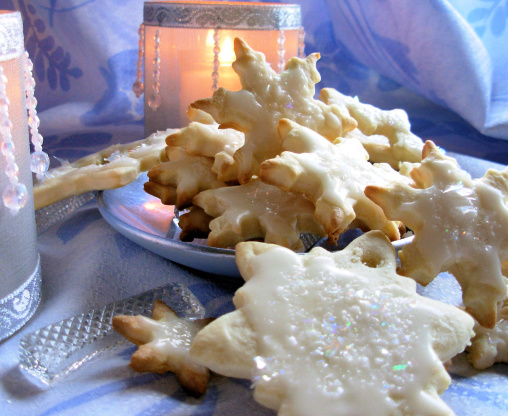 These sparkling Scandinavian style Christmas biscuits-cookies look just magical, especially when hung with ribbon from the Christmas tree! You need special snowflake biscuit-cookie cutters, and also edible glitter or sparkling silver or white dusting powder. If you cannot source edible sparkle or glitter dusting powder, they still look beautiful if decorated with white royal icing, piped into trellace work patterns to enhance the snowflake shape. These magical snowflakes make ideal Christmas gifts, and can be packaged in cellophane bags with a pretty and seasonal ribbon attached. They last for up to 14 days in an airtight tin & stored in a cool place, assuming they last that long!

Well FT, you have done it for me again. This is yet another recipe that is easy-to-fix, yummy good & sent me right to my kitchen for a dy of fun & creativity. I made the cookies for my MILs sweet tooth & the Dec Photo Challenge. I have never used icing sugar in a cookie recipe b4, but it works so well! Not sure why, but my dough was very dry & I added 2 tbsp butter + 1 tbsp water to get it to a good roll-out consistency. All went smoothly after that. I lacked the spec cookie cutters you used & had no food colouring or cookie decorations. So I used cranberry juice concentrate for colour & brushed the surface of some cookies b4 dusting w/granulated sugar to get a sparkle effect. The cookies are yummy w/o it, but it surprised me how much flavor the cranberry concentrate gave to the cookies & I bet this could be done w/other fruit concentrates. Thx for sharing this great recipe w/us.
2

cups plain flour

1

cup icing sugar

150

g butter, cubed, chilled

1

large egg, at room temperature

1

teaspoon vanilla extract
milk, to mix

4

ounces white royal icing, for piping designs or 4 ounces glace icing, for icing the biscuits
edible glitter or edible sparkling cake dusting powder
Place flour and the icing sugar in a food processor. Process for 30 seconds. Add butter. Process until mixture resembles fine breadcrumbs. Add egg and vanilla. Process until dough comes together. If it is too dry, add some milk.
Transfer to a lightly floured surface. Knead dough until smooth. Press or roll into a 9"/20cm circle. Wrap in greaseproof paper. Refrigerate for 1 hour or until firm.
Preheat oven to 180C/360F, and line 2 flat baking/cookie trays with baking paper. Roll out dough between 2 sheets of baking paper until about 1/4"/5mm thick.
Using snowflake biscuit/cookie cutters, cut shapes out of dough. Place on them gently on to the trays. Press leftover dough together and repeat cutting out shapes. Refrigerate for 30 minutes or until firm.
Bake the cookies/biscuits for 10 minutes, swapping trays after 5 minutes, or until light golden in colour. Allow to cool on trays completely.
Pipe trellis-work patterns following the snowflake shapes, or drizzle glace icing over the top; then dust them with edible glitter/edible silver dusting powder whilst the icing is still wet.
Dust with remaining sugar or edible glitter/silver dust just before serving.
Note for making holes for hanging on the Christmas Tree: Just before baking, take a plastic drinking straw and press into the top of the snowflake shapes - to make a small hole - then gently wiggle the straw around a bit to widen the hole, and bake as before. On taking them out of the oven, if the holes have closed up a bit, gently wiggle around again with a plastic drinking straw, to make the holes bigger! Excuse the language, I don't know how else to put it! LOL!