Low Fat " Mc Donald's" French Fries
lazyme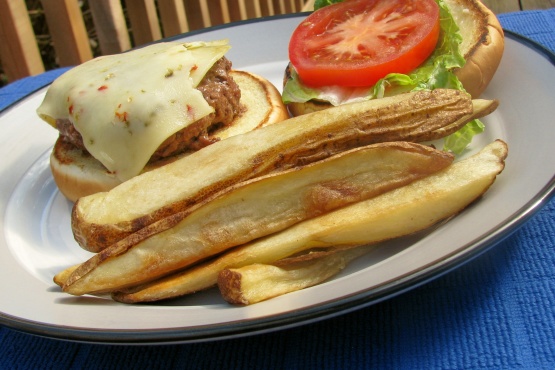 I got this from Devin Alexander's cookbook, Fast Food Fix. They are wonderful! They taste very close to a full fat version of McDonald's fries. Enjoy!
I just made these because I was havinga craving for homemade fries and while my recipe is very good, I often find the center of my old recipe fries is not as soft as I'd like (my usual recipe does not boil the fries before cooking; quite the opposite, it calls for the fries to be soaked in cold water). So I tried this simply for the cooking method and the word "Mc Donald's didn't hurt. I read the other reviews and figured the amount of salt would be too much for me, as I don't like super salty fries. It turned out wonderfully, this was the first time I had crispy fries from the oven. Thank you for posting this recipe!
Bring water to boil in a saucepan over high heat. Add one teaspoon of salt.
Preheat oven to 400°F.
Peel potatoes and slice into 1/4 inch fries.
Weigh the potatoes and measure out 9 ounces.
Transfer potatoes to boiling water and cook exactly 2 1/2 minutes.
Drain in colander and let cool (about 5 minutes).
Transfer cooled potatoes to a mixing bowl and add oil and 1/2 teaspoon of salt.
Mix gently to coat.
Spread in a single layer on a non stick baking sheet.
Bake for 20-25 minutes until crisp and golden.
Turn every five minutes during the last half of cooking.
Add the remaining salt if desired. (I found them plenty salty without).
Note: Mine took 30 minutes to achieve the right level of crispiness--so check for crispness before removing from the oven.
Chef Alexander states that this recipe is equal to a medium order of fries and has 5 grams of fat (as opposed to 17 grams of fat in the original version).