Low Fat Mac and Four Cheese (With Squash) - Healthy!
mikey ev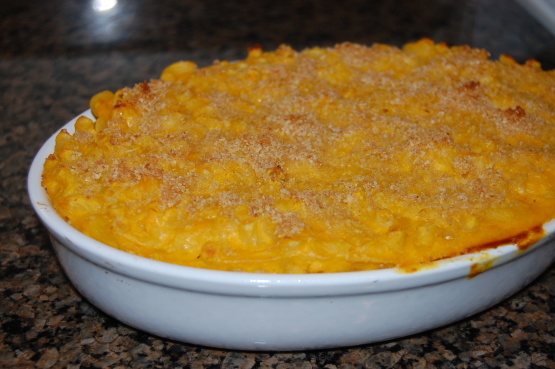 Satisfies that Mac & Cheese craving without the calories (plus you get some veggies)! Really really tasty - not sure you could fool kids, but it's great to be able to turn such a comfort food into an everyday meal! (by Ellie Krieger)

I tried this recipe a couple of weeks ago. We have been trying to find a good lower fat version of our favorite comfort food Mac and Cheese. This recipe was easy to make and tasted delicious. I used whole wheat elbow macaroni and added a can of stewed tomatoes to the recipe. I also subsituted panko breadcrumbs for the italian breadcrumbs. This is a new family favorite in my house.
Preheat the oven to 375 degrees F. Coat a 9 by 13-inch baking pan with cooking spray.
Bring a large pot of water to a boil. Add the macaroni and cook until tender but firm, about 5 to 8 minutes. Drain and transfer to a large bowl.
Meanwhile, place the frozen squash and milk into a large saucepan and cook over a low heat, stirring occasionally and breaking up the squash with a spoon until defrosted. Turn the heat up to medium and cook until the mixture is almost simmering, stirring occasionally. Remove the pan from heat and stir in the Cheddar, Jack cheese, ricotta cheese, salt, mustard and cayenne pepper. Pour cheese mixture over the macaroni and stir to combine. Transfer the macaroni and cheese to the baking dish.
Combine bread crumbs, Parmesan and oil in a small bowl. Sprinkle over the top of the macaroni and cheese. Bake for 20 minutes. Then broil for 3 minutes so the top is crisp and nicely browned.