Low-Fat French Toast Casserole
Kim S.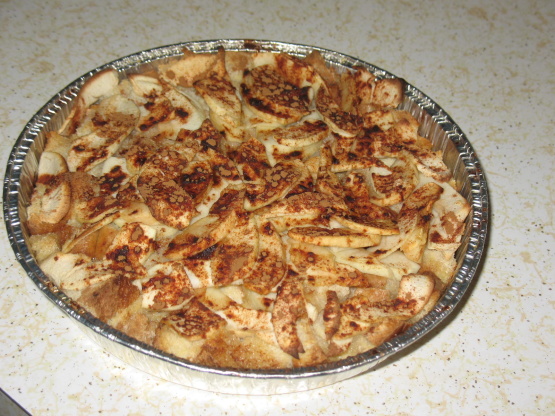 A warm breakfast casserole that is full of flavor.

Just finished scarfing a serving of this delicious breakfast! The house smells fabulous! I ALWAYS have to tweak recipes to fit my STRICT low-calorie diet. I shaved TONS of calories by using Sara Lee delightful wheat bread. I only used 14 (45 calorie)slices and COULD'VE gotten by with only 10 or 12! (I'll remember that next time.) I also cut the eggs to 5 and only used 1 and 1/4 cup of SKIM milk and only 2 apples. This still FILLED my glass 9 X 13 pan so the lesser total ingredients worked just great for me. I finished the topping with a dusting of Splenda over the whole top before baking. My calorie totals per serving was 164.42 calories and 1.92g fat!!!!! BTW...THAT INCLUDED THE LOW CAL BREAD!! (This was NOT included in recipe as posted.) My next batch will be even lower in calories/fat because I will use only 10 slices of bread. I can't WAIT to make it again! Thanks for an awesome new low-cal breakfast!
Preheat oven to 400 degrees.
Spray 13 x 9 inch baking pan with nonstick coating.
Layer bread evenly in bottom of baking pan.
Beat together milk, 1/4 cup honey, salt, vanilla and 1 teaspoon cinnamon until well blended; then mix in beaten eggs with above mixture.
Pour batter evenly over torn bread.
Core and slice apples, leaving peelings on.
Layer apple slices evenly over top and drizzle with 1/2 cup of honey.
Sprinkle remaining cinnamon over top of casserole.
Bake for 35 to 45 minutes or until bread layer isn't soggy.
Cut into 12 pieces while warm and serve with additional honey, if desired.