Low-Fat Baked Cheese Sticks
teresas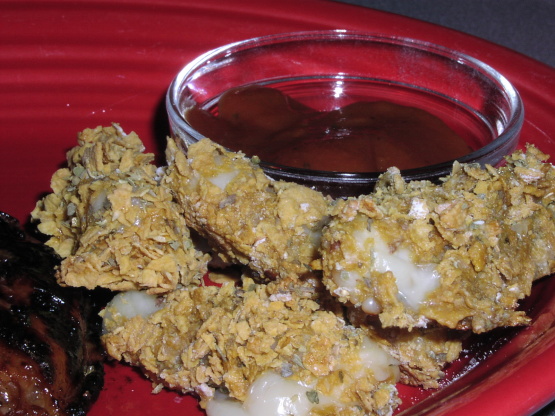 Make certain that the cheese sticks are very well coated with the egg/water mix and the cereal coating, or the cheese will flow out when baking, also let the cheese sticks sit out for 30 minutes to dry out the outer crumb coating before baking, the cornflakes must be very finely crushed or they will not adhear to the sticks, these steps are very important --- prep time includes drying out for 30 minutes.

Oooo gosh these were so good! I used egg beaters in place of the real egg whites to make them even more guilt-free. I dipped them in the egg, then flour, then more egg and lastly into the cereal crumbs. Only a TINY bit of the cheese oozed out while cooking. The taste of these was perfect and the very crunchy outside layer made these different from other cheese sticks. I dipped these into my favorite pizza sauce and majorly enjoyed these with my dinner tonight. These will be a regular for me...thanks so much for the recipe!
Set oven to 400 degrees.
Lightly grease a medium pan lined with foil.
In a large bowl, combine the crushed 1 cup cereal with the oregano and garlic salt, mix to combine.
In another small bowl place in the flour. In another bowl thoroughly beat the egg whites with the 2 tbsp of water.
Cut the mozzarella cheese into 12 sticks, approximately 2-3/4-inches in length.
Dip the cheese sticks in the flour, then in the egg/water mix, then in the cereal mixture (make sure that the cheese sticks are well coated with egg mix and cereal mix, as the cheese will run out while baking).
Arrange cheese sticks on the baking sheet.
Allow the sticks to set for 30 minutes before baking.
Bake in a 400 degree oven for about 8 minutes, until cheese is soft and sticks are lightly browned.
Recipe can be doubled for more cheese sticks.