teresas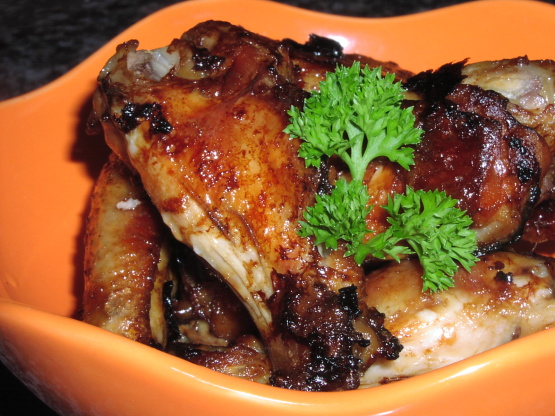 We like these tender wings! A lower carb version to curb a craving. Prep and cook times do not include marinating time. Hope this keeps your low carb diet interesting!

These were so tender and yummy...I cooked mine on parchment paper and they got nice and crisp in the oven...so I didn't throw them on the grill...just plated them after the 2 1/2 hours of cooking...I didn't have the brown sugar sub so used white...I forgot that they needed to marinate for hours so mine only hung out in the marinade for 3 hours before hitting the oven...this is a keeper thanks for posting it...
Mix all ingredients except the wings in your mini-cuisinart until blended.
Put wings into a gallon ziplock baggie and pour marinade over the top, smooshing the baggie to coat well and marinate 2 - 24 hours turning the bag over when you think about it.
Cover a jelly roll pan with foil and spray well. Layer the wings so they are not touching and cover with foil that has been sprayed. Bake for 2 1/2 hours at 300* and then finish them on your grill to give them a nice crispy skin. Be sure to spray the grill so they don't stick and turn them frequently.