Prep 30 mins
Cook 42 mins
This low carb recipe for lasagna has been perfectly tweeked to insure the lowest carbs. It has all the goodies like meat, cheeses and low carb vegies. Sure to satisfy the entire family.
Directions
Brown ground chuck in skillet coated with Pam cooking spray. Add chopped green tomato and chopped red tomato. Add salt and pepper to taste. Stir and add remaining ingredients. Let simmer till all is cooked and tender. While this is cooking slice the zucchini long ways into 1/4 inch thicknesses.Lay zucchini on plate and sprinkle with pinch of salt. Top with an upside down plate of same size and plate all in microwave for 2 minutes.
In medium bowl beat the egg. Add cottage cheese and Parmesan cheese to the egg and stir well till blended. Set aside.
Put 1/3 of the meat mixture in bottom of 10 inch casserole dish that has been sprayed with Pam cooking spray. Top with 1/3 of the zucchini slices.
Top the zucchini slices with all the cottage cheese mixture. Top with remaining meat mixture and zucchini slices. Sprinkle the mozzarella cheese on top. Bake at 350 degrees for a total of 42 minutes. Top with aluminum foil covering the top for first 30 minutes of baking time then remove the foil so that the cheese can get a little brown in spots during the remaining 12 minutes of baking.
Most Helpful
Was a little concerned about zucchini instead of pasta, but really delicious...would make again definitely.....added basil, tomato paste & some jarred low fat spaghetti sauce (PC blue menu) also after microwaving zucchini, drained excess water & patted with paper towel..... Sauce not as watery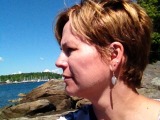 Just delicious! I omitted the green tomato and used two small zucchini. (I drained the zucchini after microwaving them.) I thought that it needed a bit more sauce, so I upped that by about 1/3 C but I didn't take into account that the zucchini would lose more water as it cooked so really the sauce amount would have been fine as written. DH and I were surprised how similar it tasted to lasagna, we did not miss the pasta at all. Perfect for SB diet! Thanks for sharing your recipe!
Made this last night and it was so great. But, made some enhancements...used mild Italian sausage, added a can of sliced black olives, a can of mushrooms and increased the amount of mozzarella to a cup. Obviously these changes increased the fat and calorie content, but not the carb content significantly. Will make this again very soon.