General Tso's Chicken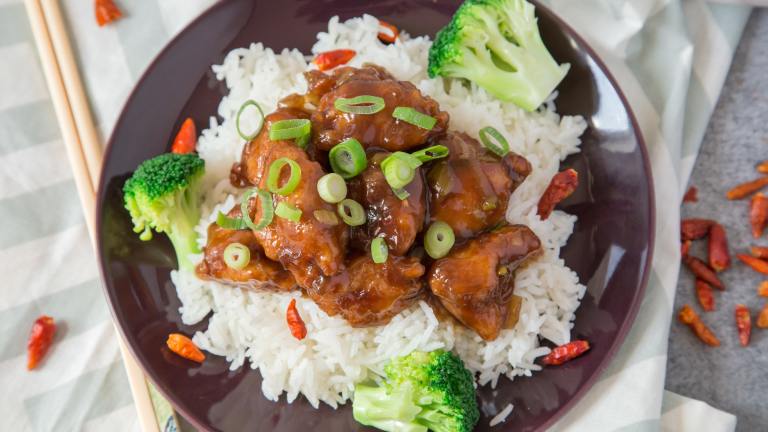 Wow! This is even better than the BEST I have had in my fave Chinese restaurant. To make the meal go quickly prep everything the day or night before and store in the fridge. To make this easy to understand I have changed the terms to cornstarch slurry and sauce. The first is used to coat the chicken for frying, the second to coat the fried chicken. HTH I use a grater with small holes for the garlic or you can just zip all the sauce ingredients up in a blender or food processor. Enjoy! NOTE: I really appreciate all the reviews this recipe has received. I know that when making this it seems strange and like it just is not going to work. Trust that it will work even though the method and the way that the cornstarch slurry acts before cooking are so different. I was the same way the first time I made this. It does result in crispy pieces of chicken that are so like you find in a restaurant. The heat here is pretty much a balanced amount because some like it hot and some do not. Taste and add more heat as desired. Thanks again for trying this recipe. I hope that you have the great results that I have had time and again. Here is info, pics and heat levels of different chilies. http://www.foodsubs.com/Chilefre.html
Ready In:

40mins

Serves:

Units:
directions
Place sauce ingredients in a quart jar with a lid and shake to mix. If you make this ahead of time just refrigerate until needed, shaking it again when you are ready to use it. This also keeps your dirty dishes down.
Mix cornstarch slurry in a large bowl- the mixture will be strange but trust me it works. It will be VERY thick almost paste like. Add ALL the chicken pieces and stir to coat. Using a fork remove ONE chicken piece at a time and let the excess mixture drip off. YES even though the mixture has a weird consistency it will not stick like paste and the excess will drip off. Add chicken to the hot (350 degree) oil and fry until crispy. Only cook 7 or 8 chicken pieces at a time. You do not want to lower the temp of the oil by cooking too many at a time. You can use a simple cooking or candy thermometer to judge the temp of the oil.
Drain on paper towels. Want them extra crispy? Put them on a rack over a sheet pan. Keep warm- I just put them in the oven with the oven off. Repeating until all chicken is fried.
In a separate wok or large skillet add a small amount of oil and heat to 400 degrees. Again, a candy thermometer works great. (Want less dishes? You can just drain the oil after you fry all the chicken, leave a small amount (about a tsp) in the pan and use the same pan if you like.)
Add green onions and hot peppers and stir fry about 30 seconds.
Stir (or shake jar) sauce mixture, and then add to pan with onions and peppers, cook until thick. Some reviews didn't kniw what "thick" meant. Thick like the same sauce you get at a restaurant.you want it to just coat the chicken. If it gets too thick, add a little water or other liquid. The thickness of the sauce should be similar to what you get when ordering this at a restaurant.
Add chicken to sauce in wok and heat just until the chicken is hot enough for you. It may not even need a minute if you kept the chicken warm. The quicker you serve it the crispier the chicken stays.
Don't be scared by any negative reviews. It's not rocket science though if you have never cooked with a cornstarch slurry it may feel like an experiment. Trust yourself! You've got this! If you have any doubts reread the recipe and get everything in order before you start to cook. I promise you will thank yourself and maybe even me! Enjoy!
Oh it's great served over rice!
Submit a Recipe Correction
RECIPE MADE WITH LOVE BY
"Wow! This is even better than the BEST I have had in my fave Chinese restaurant. To make the meal go quickly prep everything the day or night before and store in the fridge. To make this easy to understand I have changed the terms to cornstarch slurry and sauce. The first is used to coat the chicken for frying, the second to coat the fried chicken. HTH I use a grater with small holes for the garlic or you can just zip all the sauce ingredients up in a blender or food processor. Enjoy! NOTE: I really appreciate all the reviews this recipe has received. I know that when making this it seems strange and like it just is not going to work. Trust that it will work even though the method and the way that the cornstarch slurry acts before cooking are so different. I was the same way the first time I made this. It does result in crispy pieces of chicken that are so like you find in a restaurant. The heat here is pretty much a balanced amount because some like it hot and some do not. Taste and add more heat as desired. Thanks again for trying this recipe. I hope that you have the great results that I have had time and again. Here is info, pics and heat levels of different chilies. http://www.foodsubs.com/Chilefre.html"
I really liked this dish - though it did not quite come out the way that I wanted. My sauce thickened up quicker than expected but I must admit that when doing the slurry, I do not think that I mixed well but will try something different next time. My husband said that the sauce needed more liquid and I agree. When doing recipes, I like to follow the exact and also looking at the tweaks to see what I want to try/omit and then try it for a second time trying my own little tweaks to perfect it. That is why I rated it 4 stars. I will keep it and thanks for sharing and btw I LOVE THIS SITE!!!!!!!!!!!!!!!!!!!!!!!!!!!!! The recipes here are amazing.