Little Stuffed Hats in Broth
Debbwl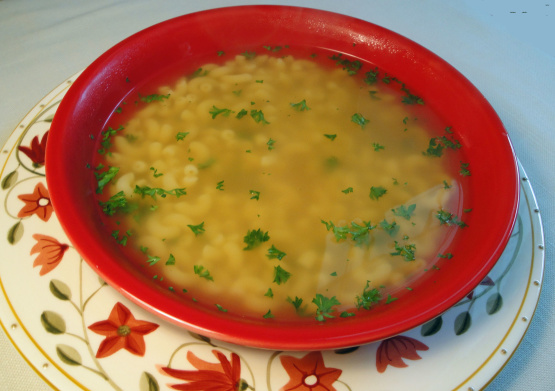 This soup is served in Northern Italy on Santo Stefano (also known as St. Stephens Day or Boxing Day) and on New Year's Day. It makes a welcome change from all the special celebration food at this time of year. It is traditionally made with the Christmas capon carcass, but chicken stock works equally well. This recipe calls for cappeletti, which means "little hat". The difference between cappelletti, from Modena, and tortellini, from Bologna, lies in the stuffing and not in the form. According to the Modenese, cappelletti are shaped like hats: On the other hand, Giuseppe Cerri, whom the Bolognese credit with the happy invention of the tortellino, claimed to have been inspired by a vision of Venus's navel. From the book "400 Soups" and posted for ZWT5.

Top Review by Debbwl
Quality ingredients and simplicity make this a winner. The white wine adds a delightful layer of flavor. Did make two minor changes to the recipe in that I used 3 tablespoons of white wine and use fresh elbow pasta as I already had that on hand. I will be making this again, thanks for the post.
Pour the chicken stock into a large saucepan and bring to a boil.
Add a little salt and pepper to taste, then drop in the pasta.
Stir well to separate the pasta and bring back to a boil.
Lower the heat to a simmer and cook according to the package instructions, until the pasta is al dente. Stir frequently during cooking to ensure the pasta cooks evenly.
Swirl in the wine and parsley (if using) and taste and adjust the seasoning.
Ladle into warmed soup plates, then sprinkle with grated Parmesan. Serve immediately.
NOTE: Cappelletti is very similar to tortellini; if you can't find cappelletti, tortellini would be a good substitution. You can buy them ready-made (frozen or fresh) or make your own. Use a miniature version if you can find it.