SwoR8193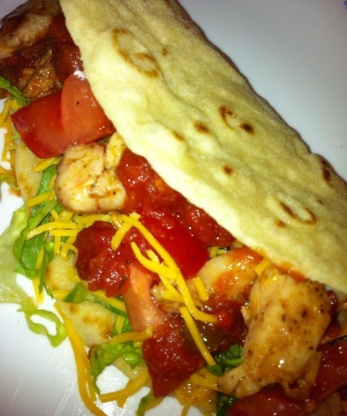 I like this recipe for tortillas because the olive oil is much lighter (reason for the name) than the usual fats used to make them. I got the this recipe from a woman at a shower (or something very close to it...LOL).

This was easy I was confused though, ingredients say baking powder, instructions say soda. I used powder and it worked just fine. Quick and tasty, it is in my favs folder!!! Thanks
In a large bowl mix flour and baking powder.
In a two cup measuring cup combine 1 cup of water and salt.
Add 1/3 cup of olive oil.
Pour water and olive oil all at once into the flour mixture and mix with a spoon or your hand quickly.
When dough comes together, knead only until the dough is smooth.
If your dough is too sticky add more flour 1 tablespoon at a time until it is no longer sticky.
Divide into 12-16 equal pieces and let it rest for 30 minutes.
Roll the dough balls out to a 6-7 inch circle for 16 pieces and 8-9 inch circle for 12 pieces on a floured surface.
Heat an iron skillet over medium heat and place tortilla in the ungreased skillet one at a time.
The tortilla will form bubbles all over it.
IF they grow bigger than quarter pop them.
When the spots are lightly browned turn over to brown other side.
Remove to a covered dish.
Notes: They make round tortilla warmers like foam coolers that are usually less than$3, but any covered dish will do.
You may need more flour than usual on your surface because these tortillas are slightly more soft which makes them easier to roll but also sticky if you don't use enough flour.
I place a paper towel or cloth in the bottom of the warmer before I start adding the tortillas to prevent the bottom one from getting soggy from steam.
If you like the fluffy tortillas like on a muchaco or gordita (sp?) at chain resturaunts you can add baking powder to this and make circles slightly smaller.
They can also be deep fried into taco shell shapes after they are grilled.