Linda's Spinach Pasta Fresca
awalde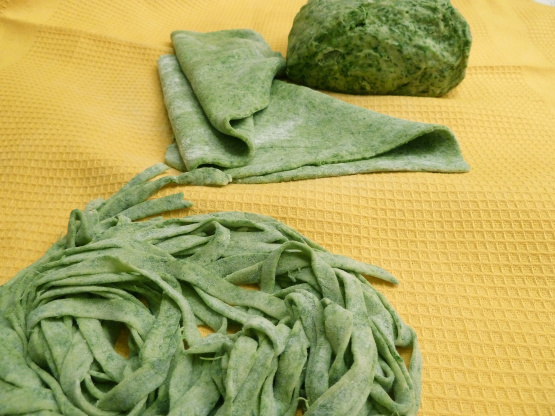 Spinach fettucine made quick and easy This is a great pasta on it's own or mixed with any of my other Pasta Fresca recipes which I have submitted to this site. If you decide to mix the pastas you should cook them separately since the cooking times will all be a little different for each batch. I hope you try this - Just make sure you use chopped frozen spinach, thawed and squeeze the spinach very dry and chop it very fine.

Top Review by awalde
We are used to prepare pasta fresca, but usually wit did it without spinach.
This was delicious and we enjoyed it very much. I had to add some spoons more of flour to work it better and to prevent sticking.
After cutting we spread the ready noodles on a big tablecloth until all tegliatelle were ready.
We used 2/3 of them directly with a moshrooms sauce and last third we let dry and use in a few day. Thanks a lot!
Whiz the spinach and flour together in the food processor.
Add the eggs and pulse a few times, scrape the bowl and process until the dough comes together. It should be dry but hold together when you squeeze some in your hand.
Dump into a large zip lock baggie and press the dough together to form into a log.
Refrigerate for 30 minutes to relax the gluten.
Cut the log into eight slices and working with one piece at a time run each through your pasta kneader (setting #1) four or five times, folding over the ends each time to try to keep it somewhat square and uniform. The kneaded dough should be very smooth and luxurious feeling with no graininess or roughness. I will post pictures in a few days.
Keep everything heavily floured.
After you have all of your dough rolled on setting #1 proceed to roll the pieces to your desired thickness, starting on setting #2 and going up one or two settings at a time. I like them rolled to number 6 on my Kitchenaid Pasta attachement and number 7 on my Atlas Pasta maker. Keep the pasta floured to avoid sticking.
Choose the fettucine cutter for this recipe and run the strips through the cutter making sure to keep them well floured and keep your work surface floured very well. Make sure the strands are all separated. In this case there is no such thing as too much flour.
Let the pasta dry for a few minutes and separate into four servings.
To eat right away, boil a large pot of water with a tablespoon of olive oil and two or three tablespoons of kosher salt. Check the pasta after one minute and continue checking until it is done to your liking. Most pastas are al dente in under three minutes. Drain, sauce and serve.
TO STORE: Curl the pasta into little nests and freeze in small containers to avoid crushing and sticking together. Remember, you can't use too much flour.