Limoncello Tuna and Asparagus
jenne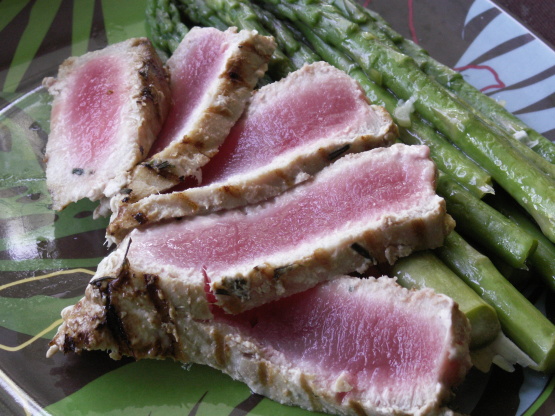 A healthy recipe from the Eat Right section of Shape Magazine Summer 2009. After making this recipe, I wanted to add a few notes. I marinated my tuna for about 12 hours and the only flavor that really stood out was the rosemary. . .perhaps you might want to add some additional lemon juice and lemon zest to the marinade. I then let the reserved marinade sit for 24 hours in the fridge to infuse the flavors which was nice; I strained mine as I don't care for "herby" stuff and mixed it with the warm asparagus (then skipped the salad part). A nice meal.
Whisk together olive oil, limoncello, and herbs.
Reserve 1/4 cup of the mixture and put the rest in a 1 gallon zip top bag.
Add tuna to the bag and chill for 2-4 hours, turning over occasionally.
Discard marinating liquid in the bag and season tuna with salt and pepper.
Grill asparagus and lemon slices until tender; season with salt and pepper.
Sear tuna on very hot (greased) grill for 1-2 minutes per side for rare (cook longer if you like).
While tuna in cooking. . . In a large bowl, toss lettuce, shallots, lemon juice and reserved marinade; divide among 4 plates.
Slice tuna against the grain and arrage it over the lettuce on each plate.
Serve asparagus on the side with lemon slices as garnish.