Light Macaroni and Cheese with Spinach
Redsie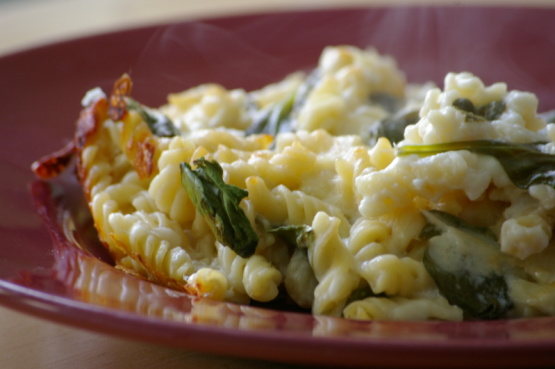 This updated recipe illustrates how you can lower the saturated fat, without sacrificing the rich, cheesy taste, in classic macaroni and cheese. A layer of spinach in the center adds flavor and nutritional value. From Cooking Club

I was on a soft food diet as a result of a dental injury this Thanksgiving. I chose to make this as a side dish for the family and as a main course for me, and it was a hit all around. Many baked mac & cheese recipes can be rather bland, but the extra sharp cheddar makes it quite flavorful. Despite the "light" in its name, I was a little concerned about the fat content ( 52% DV saturated fat - ouch!) , so I used skim milk and non-fat cottage cheese and it was still extremely rich and tasty. I also used whole wheat pasta and fresh rather than frozen spinach. I doubled the recipe and cooked it in a 13"x9" casserole dish - perfect! This is one of those dishes that tastes even better as next-day leftovers.
Heat oven to 400F.
Spray 8" square baking dish with nonstick cooking spray.
In small bowl, whisk 1/4 cup of the milk and flour until smooth.
In heavy medium saucepan, heat remaining 1 1/2 cups milk over medium heat until steaming.
Add flour mixture; cook 2-3 minutes or until sauce boils and thickens, whisking constantly.
Remove from heat; stir in cheddar cheese until melted.
Stir in cottage cheese, salt, pepper and nutmeg.
Cook spinach according to package directions; drain.
Rinse under cold running water; squeeze out excess moisture.
Cook macaroni in large pot of boiling lightly salted water 4-5 minutes or until not quite tender, stirring often.
(Macaroni will continue to cook while baking.) Drain; rinse with cold water.
Drain again.
In large bowl, stir together cheese sauce and macaroni.
Spread half of the macaroni mixture in baking dish; spoon spinach over top.
Spread remaining macaroni mixture over spinach layer; sprinkle with wheat germ.
(Dish can be made to this point and refrigerated for 2 days or frozen for 2 months. Thaw in refrigerator before baking.) Bake 35-45 minutes or until bubbly and golden.
TIP*If you can't find wheat germ, substitute an equal amount of Parmesan cheese, cracker crumbs or bread crumbs.
VARIATION: To make Southwestern Macaroni and Cheese with Peppers, substitute 1 cup grated pepper Jack cheese for 1 cup of the cheddar cheese.
Omit the nutmeg.
Add 1 (4 1/2-oz.) can chopped mild green chiles, 1/3 cup chopped fresh cilantro and dash cayenne pepper to cheese sauce.
Omit spinach.
Instead, cook 2 cups thawed frozen pepper stir-fry vegetables in 1 teaspoon olive oil 3 to 4 minutes or until tender.
Replace spinach with pepper mixture.