Light and Hearty Cajun Chicken Pasta
lazyme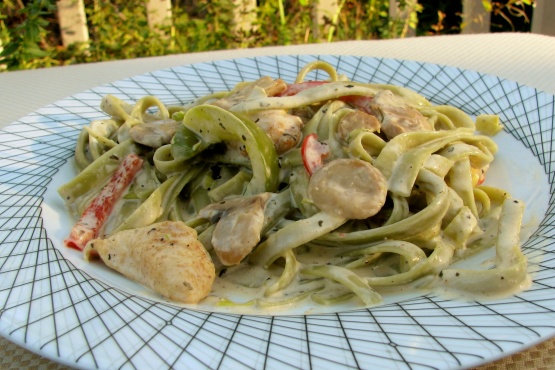 This is a quick, easy and delicious one-pot meal which is low in fat but high in taste. This makes a large serving when divided by four and could be enough for six, depending on the appetites.

Creamy healthy Cajun heaven! I threw in some fresh baby spinach leaves for the last few minutes to wilt. We like Emeril's "Original Essence" cajun seasoning - not too spicy but flavorful. Thanks for sharing - we loved it!
Cook the pasta in a large amount of boiling water until al dente; drain and set aside.
Sprinkle the chicken with 2 t of the Cajun seasoning and mix until coated evenly.
Spray a large nonstick skillet with nonstick cooking spray and heat over medium-high heat.
Add the chicken to the hot pan and cook for 2 minutes without stirring.
When the chicken is lightly browned on one side, stir it to cook the other side (leaving it to cook without stirring helps to keep it from sticking).
Cook for about 5 more minutes, or until no longer pink inside.
Remove from the pan and keep warm.
Spray the pan again with the nonstick cooking spray and add the olive oil.
Over medium-high heat, add the peppers, mushrooms and 2 of the green onions.
Cook for 3-4 minutes, stirring occasionally.
Stir in the lemon pepper, basil, garlic powder, remaining teaspoon of Cajun seasoning and the salt.
Then add the half-and-half, bring to a boil and add the chicken.
Stir until coated and warm.
Add the pasta and toss to coat.
Garnish with remaining green onions.