alligirl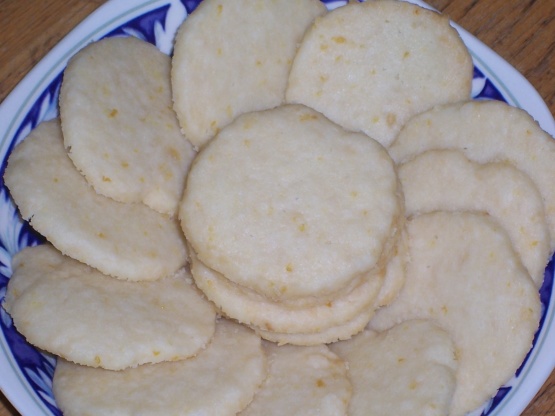 Melt in your mouth, tangy lemon taste. Hard to resist!! Freezes well I've never made these with the poppy seeds, only with the lemon rind, we love it, nice tangy taste and melt in your mouth. They have become a traditional Christmas item paired with the traditional shortbread.

We liked these very much. They do have a melt-in-your-mouth texture, which I love - and I'm a sucker for lemon in anything and loved the light lemony taste in these. I made cookie sandwiches with some of these, filling with raspberry jam, and that was delicious, too.
Combine flour, corn starch, icing sugar and lemon rind in a large bowl.
With large spoon, blend in butter.
Work with hands until a soft, smooth dough forms.
roll dough to 1/4 inch thickness.
Cut in shapes with cookie cutters.
Place on ungreased baking sheets.
Sprinkle with coloured sugars if desired.
Bake at 300 degrees for 15 to 20 minutes or until edges are lightly browned.
Remove from sheet, cool completely.
Variation: Lemon Almond- Add 3/4 cup finely chopped unblanched almonds to dough or Lemon poppyseed- Add 1 tablespoon poppy seeds to dough.