Lemon Pepper Tilapia (Or Catfish)
teresas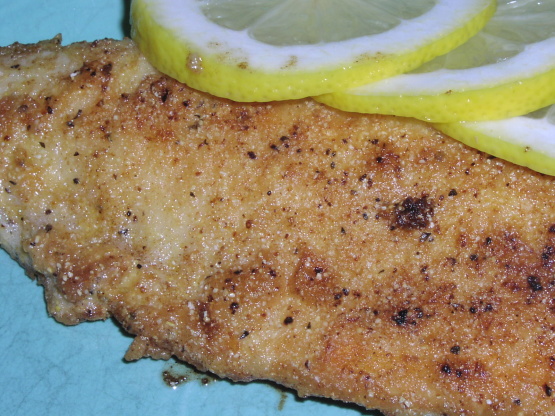 You can purchase lemon pepper at in any grocery store in the spice section, it's also great on veggies and steaks too but really brings out the flavor on fish ;-)

This is a very tasty way to cook tilapia! (and easy!!) The lemon pepper I use has no salt in it. Make sure salt is NOT an ingredient in yours, because 1 tablespoon might be too much. (or omit added salt). Fish had a nice crispy coating, and browned nicely. Thanks for what will become a regular dish here!
1 1⁄2 cups flour
1⁄2 cup cornmeal
1⁄2 teaspoon garlic powder (or to taste)
1⁄2 teaspoon salt (I use 1 teaspoon season salt)

1

tablespoon lemon pepper

2

eggs, lightly beaten (you might need 3 eggs)

6

tilapia fillets (or use catfish)

2

tablespoons butter

2 -3

tablespoons oil (more if needed)
lemon slice, sliced thinly (optional)
In a shallow dish combine flour, cornmeal, garlic powder, salt, and lemon pepper until well combined.
Place the eggs in a shallow dish.
Dip fish fillets into the eggs then dredge in the flour/cornmeal mixture until well coated.
Heat butter with oil in a large skillet.
Add in the fillets and fry until brown on both sides.
Place the fish on a serving platter and top each fillet with 2 to 3 lemon slices if desired.
Delicious!