Lemon Dill Twice Baked Potatoes
Rita1652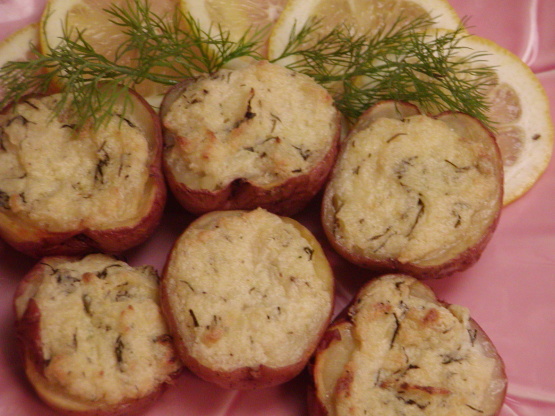 I love potatoes but I get tired of the same old twice baked with cheese and bacon, ecetera, ecetera, ecetera. These are just a little different from the ordinary.

I must say I don`t get tired of the same old twice baked potato with cheese and bacon. But this is a nice change! Makes you feel like you`re eating a bit healthier! This is more refreshing. Not so heavy feeling. Or should I say like comfort food. The lemon and dill makes this a summer side that I did enjoyed. But won`t give up on my twice baked potatoes.Thanks for opening my eyes to something different! I microwaved red potatoes for 8 minutes. Meamwhile I sauteed 1 clove of fresh minced garlic in the butter that I melted. Following the rest of the directions.
Scrub potatoes and bake at 425°F until tender, approx 30-45 minutes depending on potato size.
When done, remove from oven and cut in half lengthwise.
Scoop out each potato half, leaving a thin shell.
In a large bowl mix potato pulp and 3 TBS butter.
Add rest of ingredients except the remaining butter.
Beat until smooth.
Pile mixture back into the potato shells.
Place in buttered baking dish.
Brush tops with remaining butter.
Bake at 425°F for about 20 minutes until golden brown.