gailanng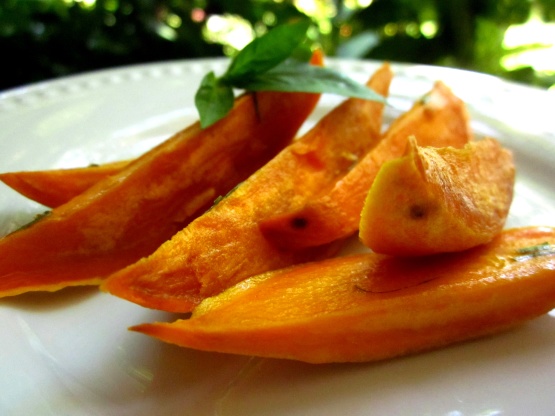 Idea started from a recipe on the back of a package of pre-cut yam fries found in the produce section. That version used lime and cilantro, which I think would be a great combo, the difference would be that you'd wait to toss in the cilantro until the very end. Their cooking time was also way off, although with something like fries different ovens can make a big difference.

Top Review by ImPat
Started out to make for 3 but in going to do so discovered I only had enough sweet potatoe for 2 so the 2 diabetics got those and the DS got a normal potato. I cut mine into wedges and followed through with the recipe and the end result was wonderful to taste in that the wedges still had firmness and a very slight crispness (maybe under the griller/broiler would have helped but didn't have the time) and the regular potato was just as good, so overall a really nice wedge with lots of flavour. Thank you magpie diner, made for Everyday A Holiday tag game.
Put the oven rack in the middle position and preheat oven to 375 degrees F.
Toss the yam fries with 1 tbsp of the olives oil, 1/4 tsp of the salt and the garlic.
Arrange in one layer on a baking sheet and roast them for 20 minutes.
Meanwhile whisk together the other tbsp of olive oil, the lemon zest, lemon juice, basil and remaning 1/4 tsp salt -- and red pepper flakes if using.
Remove the yam fries from the oven, drizzle over the olive oil/lemon mixture then flip the fries over. You want to flip the fries at this point to help them crisp up as well as distribute the lemon/basil seasonings.
Return to oven and cook for about another 20 minutes until done. I like mine to crisp up a bit so I like to turn on the broiler for the last few minutes.
Spinkle with a little extra salt if you like.