Pam-I-Am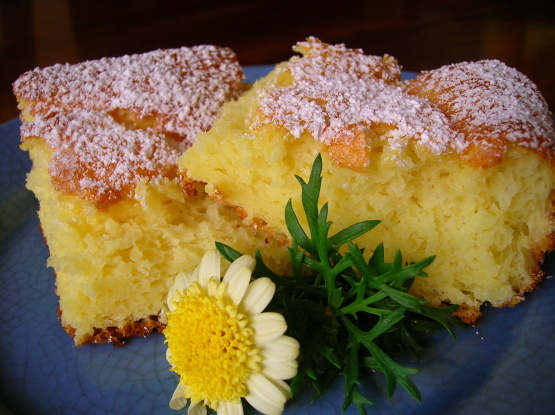 Easy Low Calorie Low sugar version of a classic dessert. My friends love these. I am diabetic and while not totally sugarfree as there is some in the cake mix, these are low enough in sugar that my doctor says they are OK for me in moderation :)

Top Review by nnreq
While this is not a substitute for the original lemon bars, it does make a very moist and tasty angel food cake. The recipe is extremely easy to make(one bowl) and makes a delicious diabetic dessert. I'll have to keep this one in my recipe file to fullfill my sweet tooth.
Preheat oven to 350°.
Spray a 9 x 13" pan with cooking spray and set aside.
Prepare pudding according to directions on box.
Let pudding set up.
After pudding is set stir in dry lemon Jello.
Mix dry angel food cake mix into above ingredients and stir together.
Pour into prepared pan and bake for about 35 minutes.
Check with toothpick test.
Cool and sprinkle with powdered sugar through a sieve.