Lamb Shanks With Verjuice
JustJanS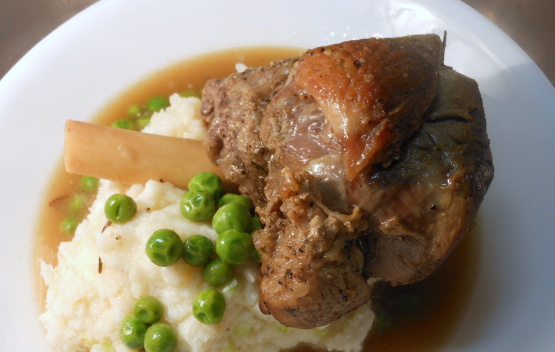 I just love lamb shanks and am hoping to try this soon before lamb goes up to much in price. The recipe is from our state daily paper The West Australian. Verjuice is made from white grapes, so at a pinch you could use a dry white wine.

This was a delicious dinner thanks Pat. I had to use bottled crushed garlic, so just used a big tablespoon of that (I followed the recipe otherwise). When the shanks were done, I removed them, strained the broth and returned it to the pan. I reduced it by about half, then popped the shanks back in to keep them warm while I organised the veg. I didn't have anything to garnish the dish with, so added in some peas right at the end to brighten it up. This is lovely and light and quite lemony and the shanks certainly were tasty and tender. I think a white wine would work just as well as the verjuice and reduce the cost of the dish a lot.
Preheat oven to 160°C.
On the stove heat the oil in a large casserole dish (that is ovenproof).
Season the lamb shanks with the sea salt and freshly ground pepper.
Add 3 shanks to the casserole dish and cook over moderate heat until browned all over (about 8 minutes), rest to one side.
Add the remaining 3 shanks and the rosemary to the casserole dish and cook until browned and then add the minced garlic and cook for another minute.
Remove from the heat and return the first 3 shanks to the casserole dish or pot.
Remove the pulp from the lemon and cut the lemon rind into 8 pieces and add the the lamb along with the verjuice, stock, garlic cloves, bay leaves, cracked peppercorns and salt.
Bring to the boil and cover tightly and braise in the oven for 3 hours or until the meat is tender, turn the shanks occasionally.
Transfer the lamb to a platter and cover to keep warm.
Discard the rosemary stems and bay leaves and skim as much fat as possible from the sauce in the casserole dish.
Return the shanks to the sauce and cook over moderate heat until warm.
Spoon into bowls and serve.
I would serve with mashed potato and steamed vegetable.