Kue Lupis (Indonesian Sweet Sticky Rice Dumplings)
Gessy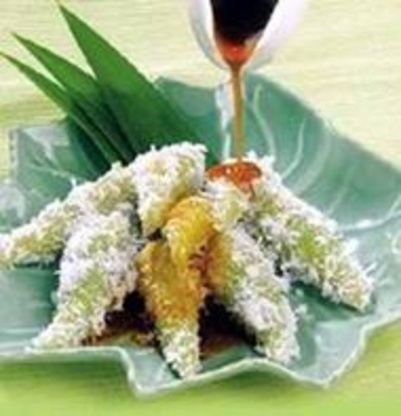 Another fav snack of mine!

Having had Kue Lupis before, I know that they are small triangular shaped cakes that are sometimes made with green coloring. However, having never made them before, I had no idea how large or how small I was supposed to make the banana leaves triangular cone as the glutinous rice will expand on boiling, but to what extent? In the end, I decided to assume that the sticky rice doubles in size upon cooking, and turned out I was rather correct. The kue was authentic tasting, albeit a little soft, but that could be due to my long soaking of the rice. I had heard though that you may use a little "air kapur sirih" to achieve a firmer consistency, but as made, drizzled with the palm sugar syrup, they were delicious. I will make them again because not only are they so easy to make, they are a nice change from the usual buttery or fried desserts. However, I will soak the rice for a shorter time. Thank you for posting.
.Sticky rice dumplings: Take 2 piece of banana leaves, make like a triangular shape, put in 1 tablespoon of sticky rice, close it and secure with ropes or toothpick.
Boil in water for 3 hours until well cooked. Rinsed and remove the leaves. set aside and let cool.
Coconut:.
Mixed the grated coconut with salt. Steam for 10 minutes.
Palm sugar syrup:.
Put to boil all of the ingredients until it became a thick sugar syrup.
Roll the sticky rice dumplings into the grated coconut. Arrange in small plates and pour over the syrup.