Kittencal's Delicious Meaty Pasta Sauce
7Seven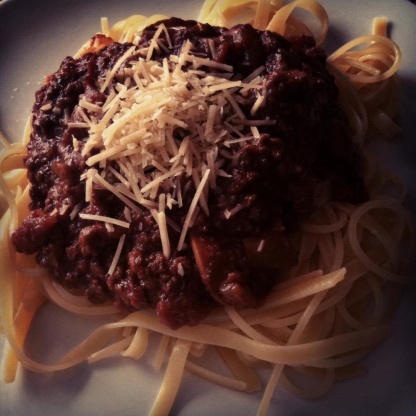 I don't think you will find a better meat sauce than this one! a good tomato sauce needs time to "ripen" so I strongly suggest to make this sauce a few day ahead and refrigerate just warm in a saucepan before using you will see that the flavors strongly intensify after refrigeration time --if you want a creamy sauce just add in 1/4 cup or more of heavy whipping cream the last 30 minutes of cooking time, this may be doubled if desired but keep the ground beef amount at one pound, this also freezes well... you will *love* this!

Wow!!! This was soooo good!!! EVERYONE loved this! I've made so many sauce recipes, searching for a good one, and this is the first one I've ever made that meets my expectations. Actually, it surpassed them. It's by far the best that I've tried, so 5 stars are not enough! Just wanted to mention that I've made this without the ground beef and sausage, and it comes out just as delicious! Oh yeah...and if you have kids, you may want to reduce the red pepper flakes to 1/2 tsp. 1 tsp. was a little too spicy for mine...they still ate it though!!;)
In a Dutch oven heat oil, then add in the basil, oregano, chili flakes, bay leaf and onion; saute, stirring with a wooden spoon for about 4 minutes (this will release the flavors in the spices).
Add in garlic and cook for 2 minutes.
Add in tomato paste and cook stirring with a wooden spoon for 2 minutes.
Add in ground beef and sausage meat; cook until well browned (about 10 minutes) drain any fat.
Add in the wine and simmer for 2-3 minutes, stirring.
Add in crushed tomatoes, tomato sauce, beef broth, mushrooms, sugar, 2 tablespoons salt, Worcestershire sauce; bring to a boil, reduce heat and simmer partially covered for about 2 hours (or you can simmer for longer on low heat).
Season with black pepper.
Remove the bay leaf and serve over hot cooked pasta then sprinkle with lots grated Parmesan cheese.