Kirk Douglas' Chicken in Dill Sauce
JustJanS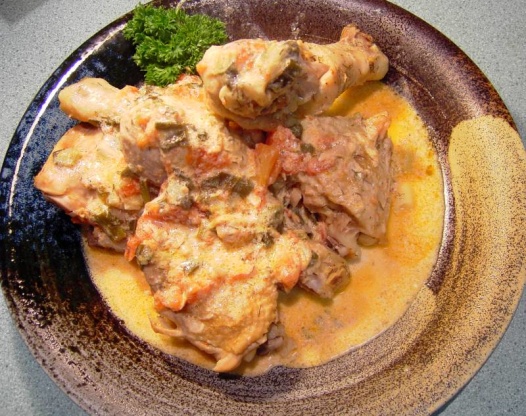 I love finding celebrity recipes in the paper! I haven't tried this one, I'm placing it here for safekeeping until I have the chance to do so. This comes from the Chicago Sun-Times, in an article about Passover Memories. This recipe was borrowed from the 'Celebrity Kosher Cookbook'. I hadn't known that Kirk Douglas was born Issur Danielovitch Demsky, the son of poor Russian immigrants.
Top Review by Ilysse
We LOVED this. I made this Thursday night for Friday's dinner. I think this was key since when I took a taste Tursday it was good but lacked the wow factor JanS was talking about. However, after sitting in the fridge all night and day the dish really came together. I didn't use the sour cream as we cant get the fake stuff around here and this was for Shabbat dinner (no mixing dairy with meat) but my fiance (not a Jew) liked the addition of the sour cream on the noodles (made egg noodles as a side) but said he didn't think it was needed in the chicken. So next time I will just put the sour cream on the table again and let everyine do their own thing. I also made the whole thing on top of the stove since I had a Challah baking in the oven. I followed the steps exactly except I brought it to a boil when I added the sherry and down to a simmer and then covered and let it cook for about an hour. Friday after work I simply warmed it in the pot. You know its good when the first word out of Mike's mouth is "mmmm". Thank you, this will become a traditional Shabbat dish for us from now on. I look forward to passing this recipe to my grandchildren (in about 40 years when I have some lol)
Blanch tomatoes in boiling water for 2 minutes then plunge into cold water; skin will peel off easily then chop tomatoes into chunks.
To make chicken: Preheat oven to 325°.
Wipe chicken parts with damp paper towels; season with salt and pepper.
In a large heavy pot or dutch oven, brown chicken in olive oil; season with salt and pepper.
During last 5 minutes of browning, add green onions; cook until greens wilt and white stems turn golden; add tomatoes, dill and sherry; cover and bake for 1 hour, remove chicken to a platter.
Spoon sour cream substitute into pot; stir with juices from chicken; place pot over low flame and put chicken back into the sauce.
Simmer for 10 minutes.
DO NOT let the sauce boil or it will curdle.