lazyme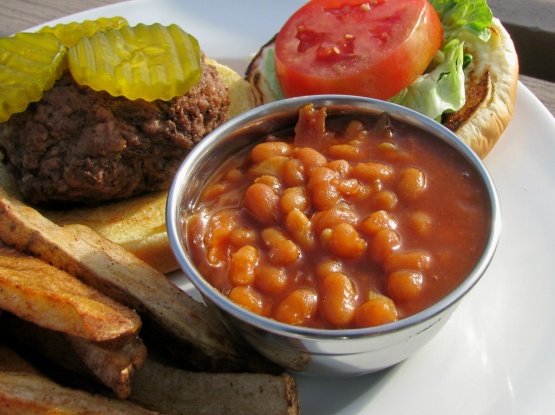 It is a recipe I came up with by playing around and everyone loves them. I have them when I have barbecues or with a catfish or chicken fry!!! As far as taste it all blends in and is just awesome.

I never imagined that I would start a review of baked beans by saying that I ate so much of them I made myself sick, BUT these are so good I ate enough of them to make myself sick. The flavors blend together perfectly and is the perfect balance of sweet and hot. The only minor changes I made were to fry the bacon in a skillet and saute the onions in the bacon fat and then cut the bacon into 1 inch pieces and mixed it in with the other ingredients. Although this recipe is perfect as is, next time I'm going to add some red or green peppers. By next time I mean for my very next meal since I still have some beans in my pantry. FYI: I used Famous Dave's Original Recipe BBQ sauce.
Mix pork and beans, brown sugar, onion, Worcestershire sauce, mustard, barbecue sauce, and liquid smoke together in baking pan.
Place bacon on top.
Bake at 350 degrees Fahrenheit for an hour or so!
Yummmmm!
Hope you enjoy; we have people over for barbecues and they are gone in no time; can never seem to make enough!